May '23 Goings ON
What a month April was for me! 
It was a great western tour- thanks to all who I connected with out in Alberta and Saskatchewan. At the same time the trip was fraught with danger the whole way. Ice storms, blizzards, floods- you name it. See the Monthly Road Tale below for more details. 
Here's my rental car after dodging speedy transport trucks, ice and snow on the Trans-Canada on the way from Regina to Eastend SK.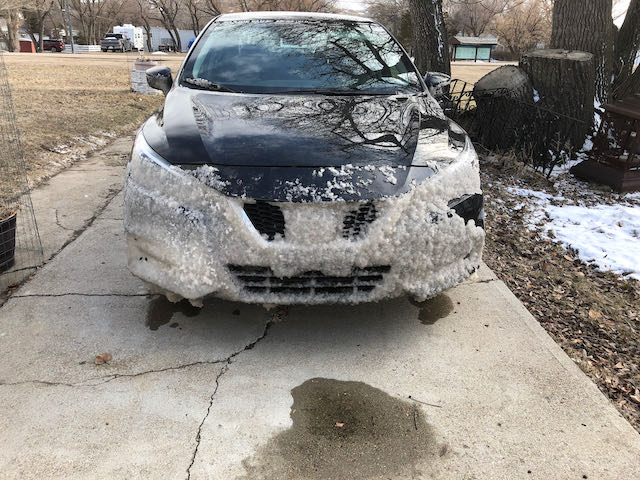 As for May- here's what's happening for me:
First up: This Friday May 5th: 6:30 pm- an Information session in Waterloo ON for the project I'm working on in the DRC ( Congo)- at the Elevation Church 22 Willow Street. I'm thrilled by the response to this great cause- with donors on GoFundMe, and those who have come on board to lend support and expertise: More info at https://jamesgordon.ca/the-tumaini-letu-drc-project and the GoFundMe page is at https://www.gofundme.com/f/bring-back-the-smile-to-tumaini-letu-drc?qid=51698aaf40552721ece8792bb1216a0f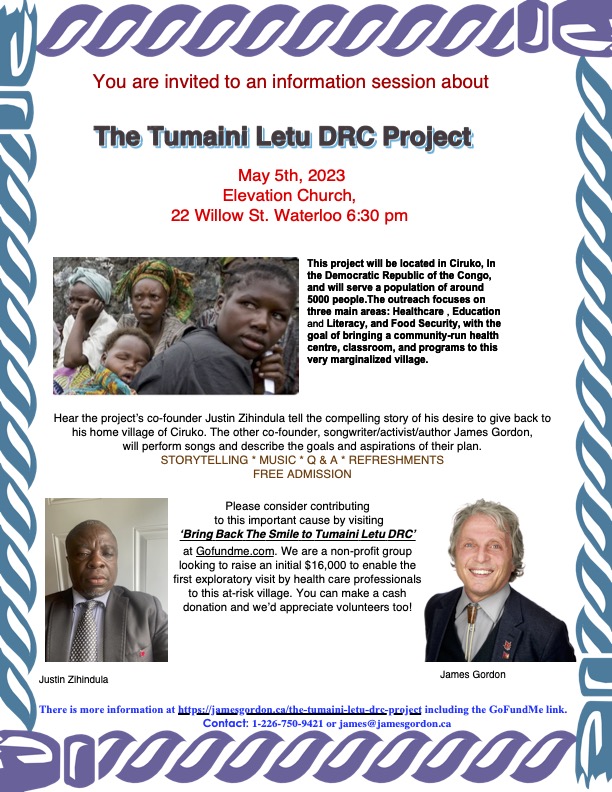 THEN: May 13th: A revival performance of Living Below The Line: the play I directed last year in Kitchener-Waterloo. It's message about mental wellness, living precariously, and the challenges for all those living below the line- written and performed by an inspiring crew of folks with lived experience of the issues. 2 pm. Crosshill Mennonite Church, ( Wellesley)-( Sorry I missed telling you about the April 30th show!)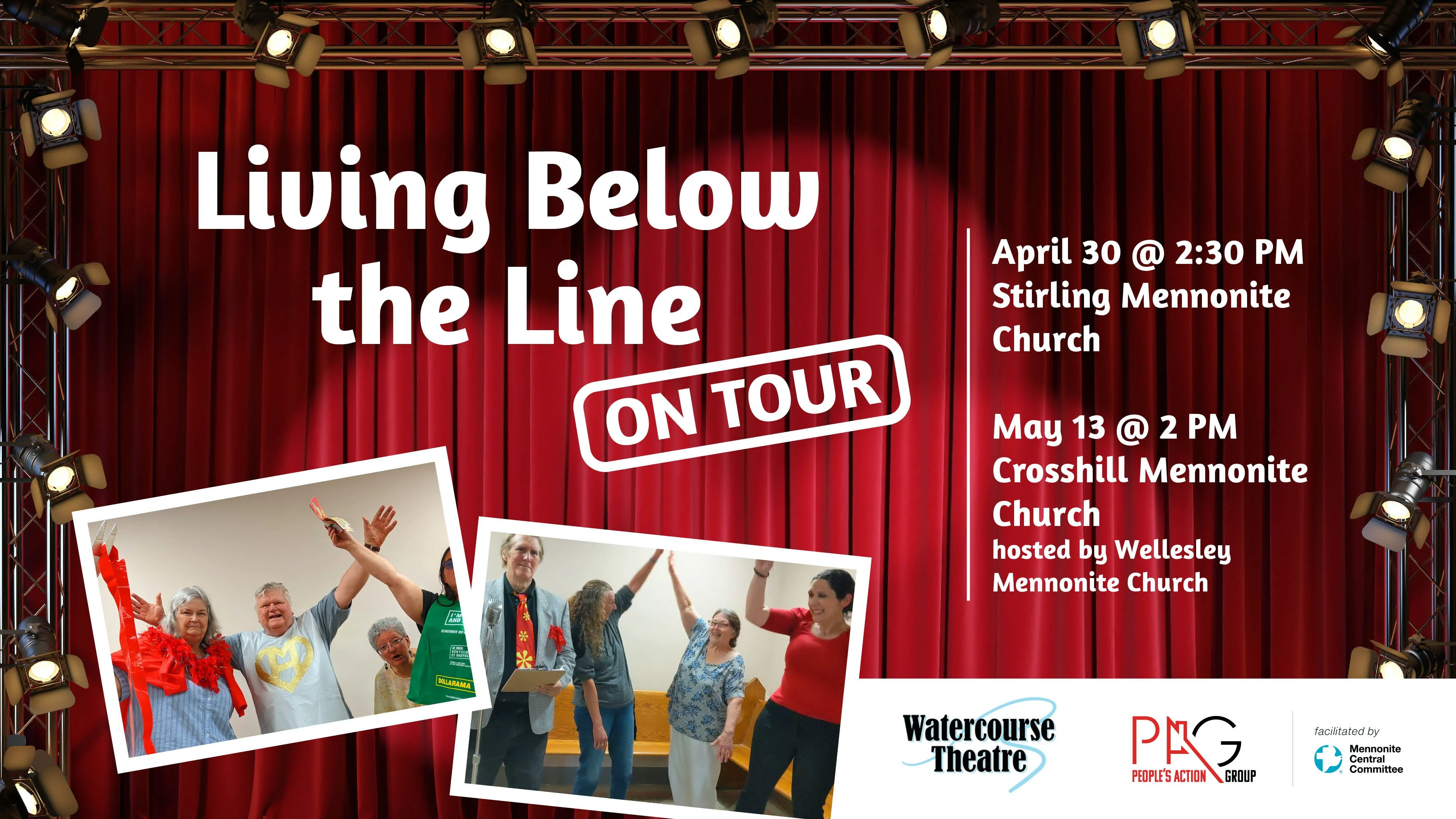 THEN: May 18th: the Guelph version of "Hello In There"- our tribute to John Prine. ( The Elora show was a sellout last weekend, and so much fun! 7:30 pm. This will fill up this lovely but small hall, and you can't buy tickets in advance.. So I'd suggest getting there at 7 when the doors open. I have a special guest joining me: Arvi Gosmo will play the ukulele and sing a great Prine duet with me. More about our work a little later in this tome.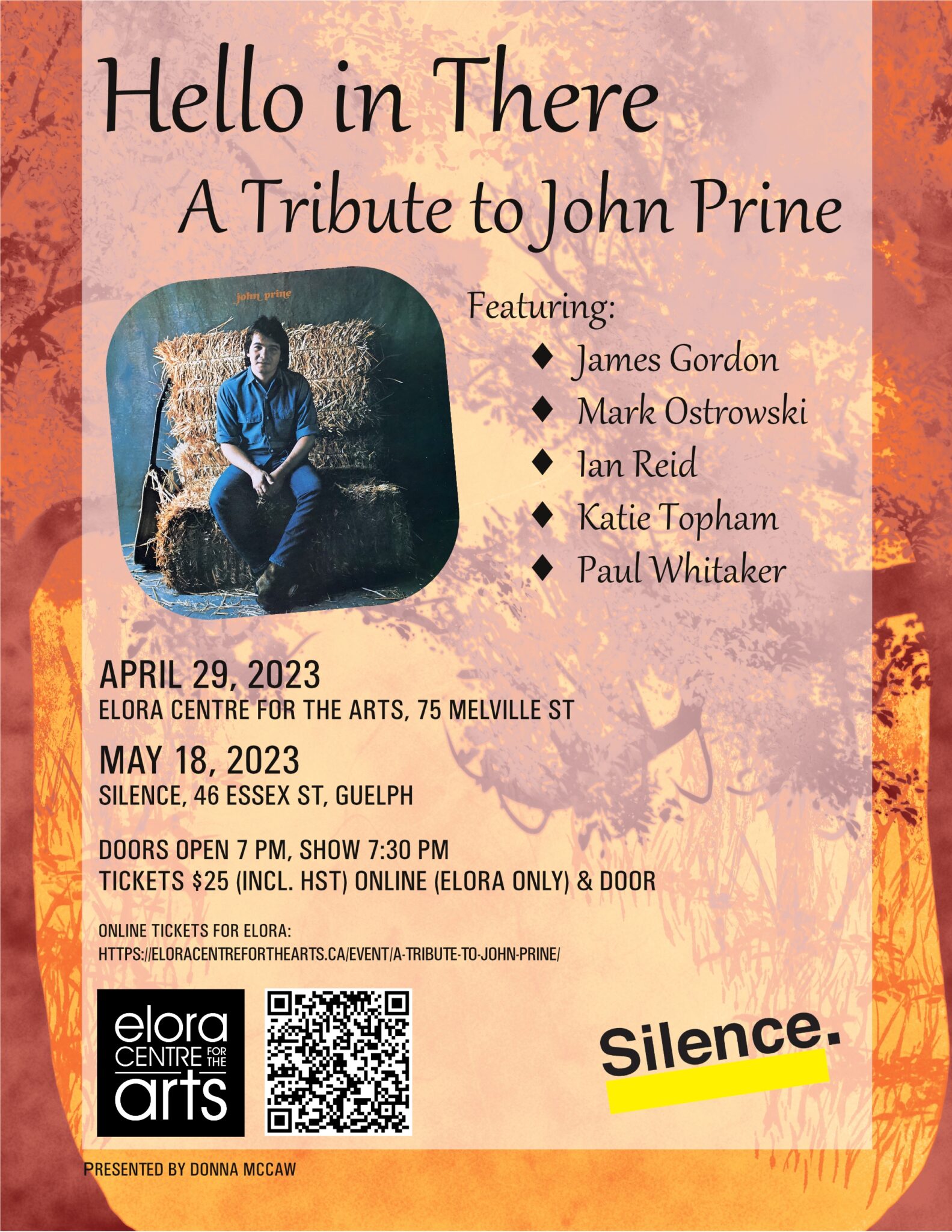 May 24th: If you happen to be a volunteer at Guelph's River Run Centre: I'll be helping to celebrate the 25th anniversary of this great venue with a performance for the volunteer appreciatiom night
AND: May 25th -28th- it's the Fourth Annual Arvi And James Spring Retreat- Songwriting, food, yoga, nature, song circles and much more. It will be a bittersweet weekend as the beautiful Clarksburg Retreat Centre has been sold and we will be the last customers. We still have TWO spots left .... it's a great group so far.. no experience necessary. More info at https://jamesgordon.ca/songwriting-retreat-weekends​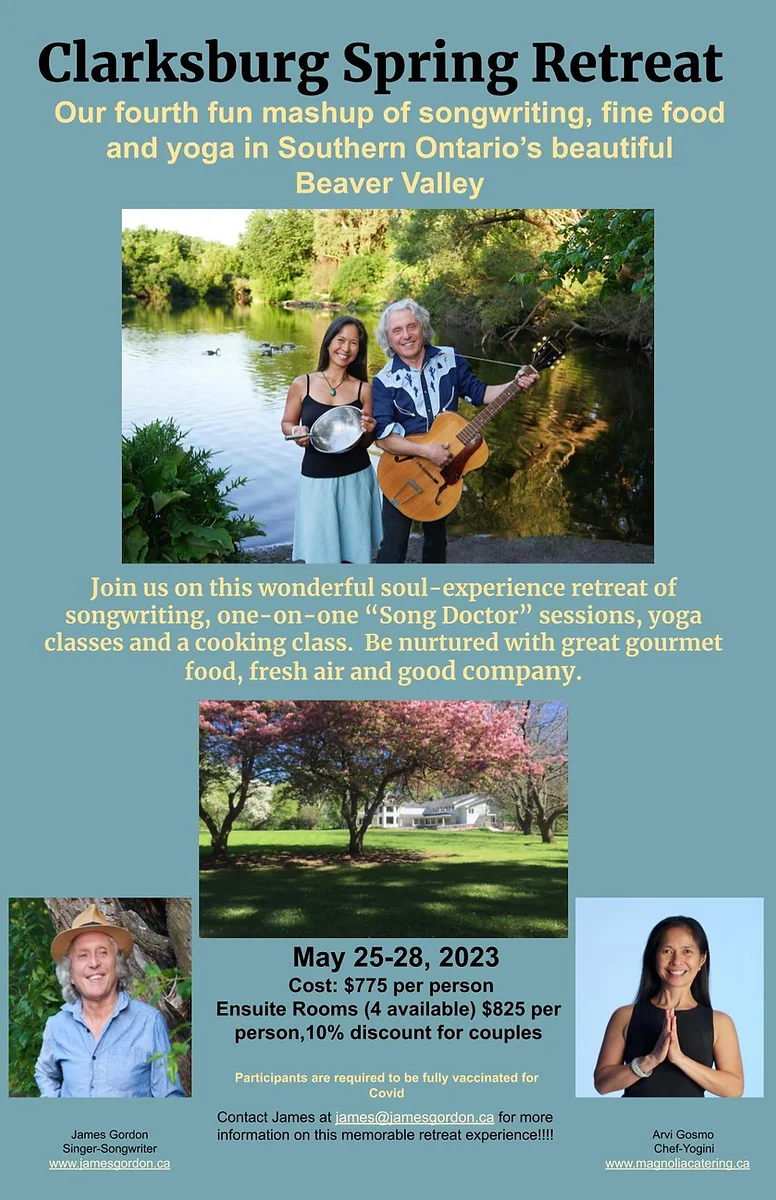 That's it for a busy month. Looking briefly into June: June 3rd I'll be in Toronto for this:Acoustic Harvest is celebrating 25 years!​
Please join us for our
​Gala Anniversary Fundraiser!
WHEN: Saturday, June 3, 2023 8pm (doors open 7:00pm)
WHERE: St Paul's United Church, 200 McIntosh St. Scarborough, ON
TICKETS: $40 Advance or $45 cash at the door, No Refunds
​Click here for tickets and more information- https://www.acousticharvest.ca/concerts.html It's been 25 glorious years of bringing the finest, award-winning, Folk and Acoustic Roots Performers to the East end communities of Toronto and we're inviting you to join us in joyous celebration!
​
Our Gala fundraiser extravaganza will feature, for your listening pleasure:
Russell de Carle (from Prairie Oyster)
James Gordon
Mary Kelly
Chris McKhool & Sultans of String
John Prince & A Piece of the Rock
Garnet Rogers
John Sheard
Alex Sinclair (Tamarack)
Taivi
Anne Walker
Ken Whiteley
David Woodhead
Here's your Road Tale Of The Month! 
My Western Tour Spring '23 -Some Highlights and Lowlights
Well, I didn't have snowstorms on my dance card for an April tour but I suppose I should have considered that. Just as I was about to board the plane from Toronto to Regina for my first show, the flight was cancelled because of a storm that overwhelmed the poor little Regina airport. They said I would be on the same flight the next day. That meant I'd miss my gig that night.. which had already been postponed once because of that plague that has been going around.
I resigned myself to missing the gig.. but if I waited a day to fly, I'd miss the NEXT gig too that involved a 6 hour drive from the airport in a rental car. SO, Air Canada flew me to Vancouver, then back to Regina. (Not sure why a plane could land from the west rather than the east in a storm, but I took them up on their offer.) On the way back from Vancouver the pilot announced that we might have to land in Calgary instead since the storm was still raging in Regina. Somehow though we landed, and I immediately understood why the initial flight was cancelled. Lots of snow and ice everywhere… I made it to a bleak airport hotel by 1 am, then up early to get the rental and head west.
What a bad idea that was. The Trans-Canada west was impossibly impassible, though once on it, it seemed too dangerous to get off or stop! I crawled along at about 40K an hour through white-outs, black ice, and the constant barrage of transport trucks passing at 100 km an hour. I counted 8 of them in the ditch on that drive. It took around 4 hours to get to clear roads, past Swift Current. The whole way I'm telling myself how foolish I was for attempting it and ignoring my new showbiz adage: "The Show Doesn't Necessarily Have to Go On".
After the road became more manageable, my car was so covered in ice from those derned trucks that it was shimmying and boogalooing slowly along the road. The whole trip took about 8 hours and I got to lovely Eastend SK just in time.
(The shows all went really well, btw,- thrilled with the response, the good-sized crowds and their generosity in actually buying CDs and books!)
The next day travelling through the haunting Cypress hills there was more snow and too long a drive , (about another 8 hours)—I was cursing the guy who had booked this tour. Me. Note to self. I can't drive that far and still give a show that same night anymore!
Full house in Calgary with some good old friends in the audience. I stayed with a member of the fine opening act who showed me his collection of over 70 guitars!
BTW- Alberta is an anomaly in Canada. It's filled with folk clubs that are thriving. They can pay a proper wage to musicians, and they fill their halls just about every time. This doesn't really happen anywhere else in the country!
An easy drive to Lethbridge. The only easy drive. Two shows there. A book reading at the great indie bookstore Analog Books, then a concert for the Lethbridge folk Club. I ended up eating a quick dinner between the two at a rather sketchy 'family' restaurant. Apparently, families want bland tasteless food, with a side of fries being compulsory. My waitress was very nice but brand new at the job and quite flustered. She did her best and when she brought the bill. (They should have PAID me to eat that meal!)- I said, for some weird reason- "You can do better than this". She clutched the table, expressed gratitude for me saying that, then burst into tears. I've been worried ever since that I nudged her into quitting her new job.
The next morning I was heading back east to a show in Regina Beach, north of Regina. After a pleasant but again, too long, drive, during which I was listening to the remarkable CKUA radio and it's two great Sunday folk shows, where I was surprised to hear quite a few shoutouts about my tour; the nice lady who voices my Maps App told me to turn left off the highway at Pence to head north to Regina Beach.. It was a dirt road that quickly devolved into a muddy one-lane track. I kept thinking I should turn back, though turning around looked impossible, and I'd likely be late for the gig. Didn't see another car on the road. I came up over a rise, (that in itself is unusual on that flat stretch of prairie,) and couldn't help but notice that the so-called road disappeared into a lake in front of me. The spring flooding I'd heard about on the radio. My GPS lady cheerily piped up "do a U-turn and go back to Highway 1." That was 30 kms back. I spied three hunters on their ATVs roaring around in the mud. During my scary drive up that road I had been fantasizing that I was headed to Virginia Beach not Regina Beach, since I had enjoyed playing there a few years before. So in my brain-dead state I rolled down the window, loosening up a lot of mud in the process, and asked them if they knew where Virginia Beach was. After correcting myself, it turned out that one of the lads was FROM Regina Beach and he explained a convoluted route that would get me there without drowning. My GPS at this point had given up altogether out of embarrassment, so I accomplished the route 'old school'- asking folks I met on the way for the next twist or bend in the barely-there road. I made it on time for a show at a very cool gallery/arts centre.
The next day I did a full day in the Regina Beach public school writing songs with the kids… The first time I'd been in a school since the onset of the Plague. 4 great new songs are in the world now and the kids were awesome. With the Grade 1s, a young man was having a hard time relating an idea for a song since he was taking his pants off at the same time. It didn't faze his classmates, so I guess this was a regular pattern.
​
Checking in to a hotel btw, the clerk thought that I had as fine a head of hair as she had ever seen, and decided that this deserved a room upgrade! I enjoyed a night of luxurious comfort based on the success of my last remaining physical asset 
The cancelled Regina show was rescheduled for the Wednesday, (the third try worked!) a day after I was supposed to fly back. (Such a great group of supporters at that concert!)- I had to juggle a couple of things back home, and when I called Air Canada to reschedule my flight, they said the only way I could get to Toronto on a Thursday was to fly to, yes, Vancouver- so I indeed saw the Pacific Ocean twice on my prairie journey.
I had shipped three large boxes of books and CDs out in advance of the tour since excess baggage is so expensive on flights these days. I had one box left before the last gig, and I wouldn't have time to ship the leftovers back as I had to go straight from my gig after-party to the airport to make my 5 am flight. I found a unique solution. I shipped all my laundry home to make room in my suitcase. As it turns out, I sold out of merch at that last concert so I needn't have worried. Going through airport security my banjo was going through the x-ray machine and the attendant said "Is that a fishing rod?" I must remember to try to use a banjo as a fishin' pole sometime. Finallly some decent use would come from that instrument.
A big thanks to all who came out to the shows and supported live music.!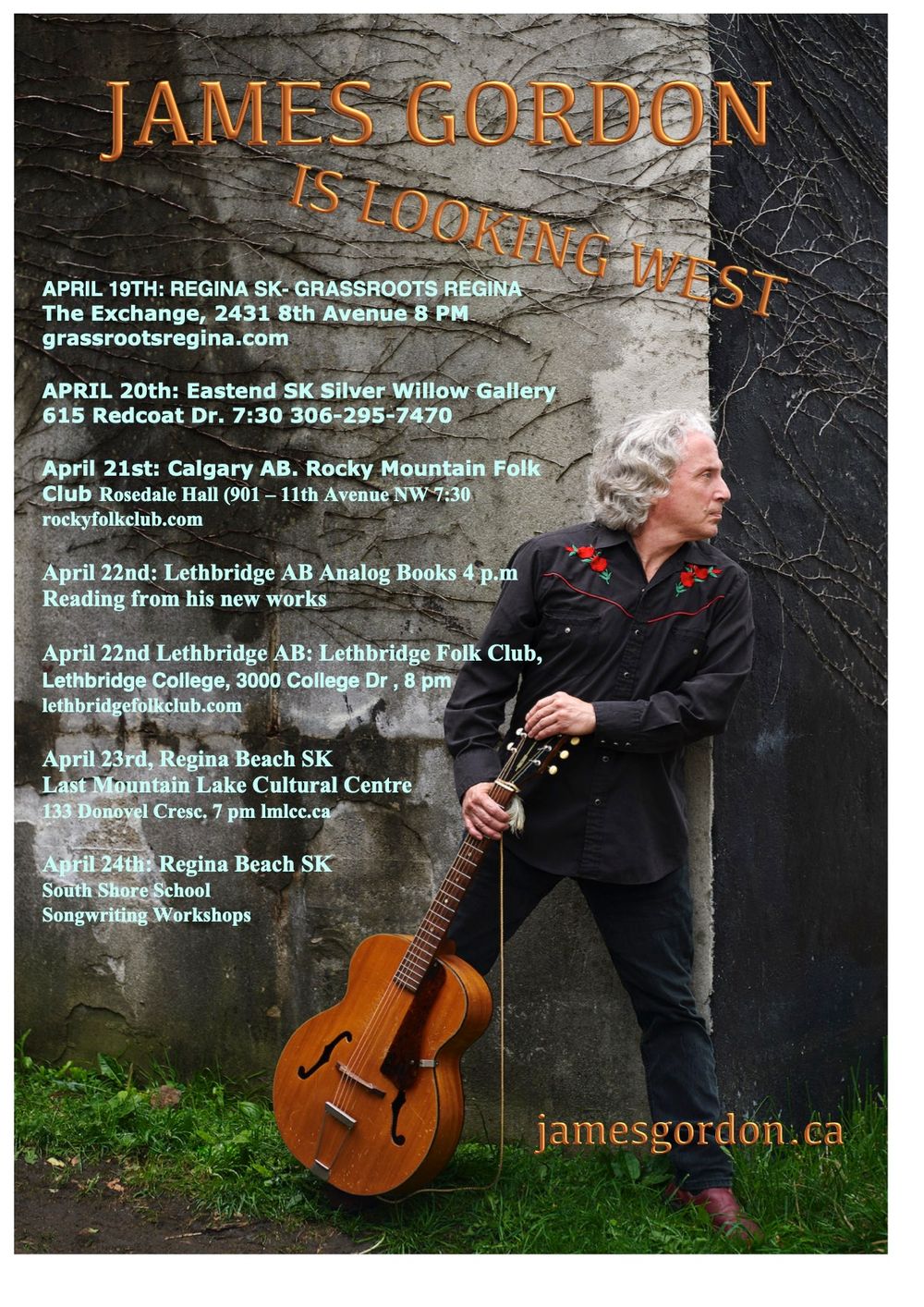 February 2023 Newsletter 
Hi all, 
Lots to report. 
I'm just off the plane from an extraordinary visit to Rwanda. My first time in Africa. It's a very vibrant, forward-thinking country and their recovery from the genocide of 1994 is remarkable and inspiring.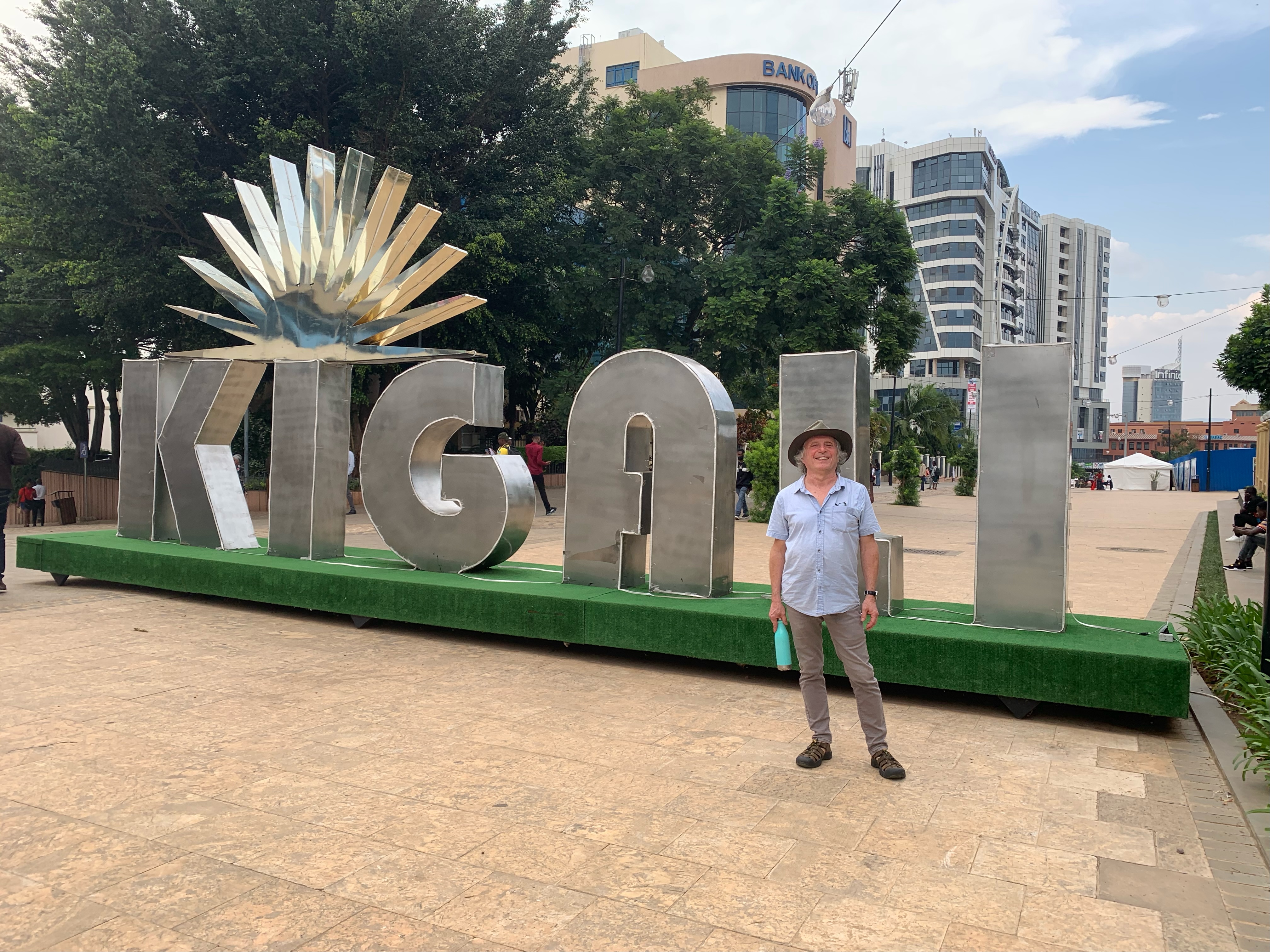 This is in the "Car-Free Zone" in downtown Kigali- Africa's cleanest and safest city they say. 
What was I doing there, you might well ask? My dear friend and business partner Arvi Gosmo, ( We run those songwriting/food/yoga retreat weekends that I pester you about from time to time, ( including later in this newsletter, you poor things, )- has been in Rwanda since October, having been invited to set up a retreat centre there. She thought that if I managed to visit, we could cook up some interesting schemes in this 'city of possibilities'... AND I've been approached with my experience as a politician to help bring a health clinic to the Democratic Republic of the Congo, ( helping someone in Canada who took one of those retreats last year, who is from the Congo, and wants to return to help his home village)- So I had a meeting while in Kigali with Patient Beya at Kuishi Smart, an organization devoted to bringing affordable health care to Africans with portable clinics etc. Here we are! ( Not an actual-sized portable clinic pictured:)-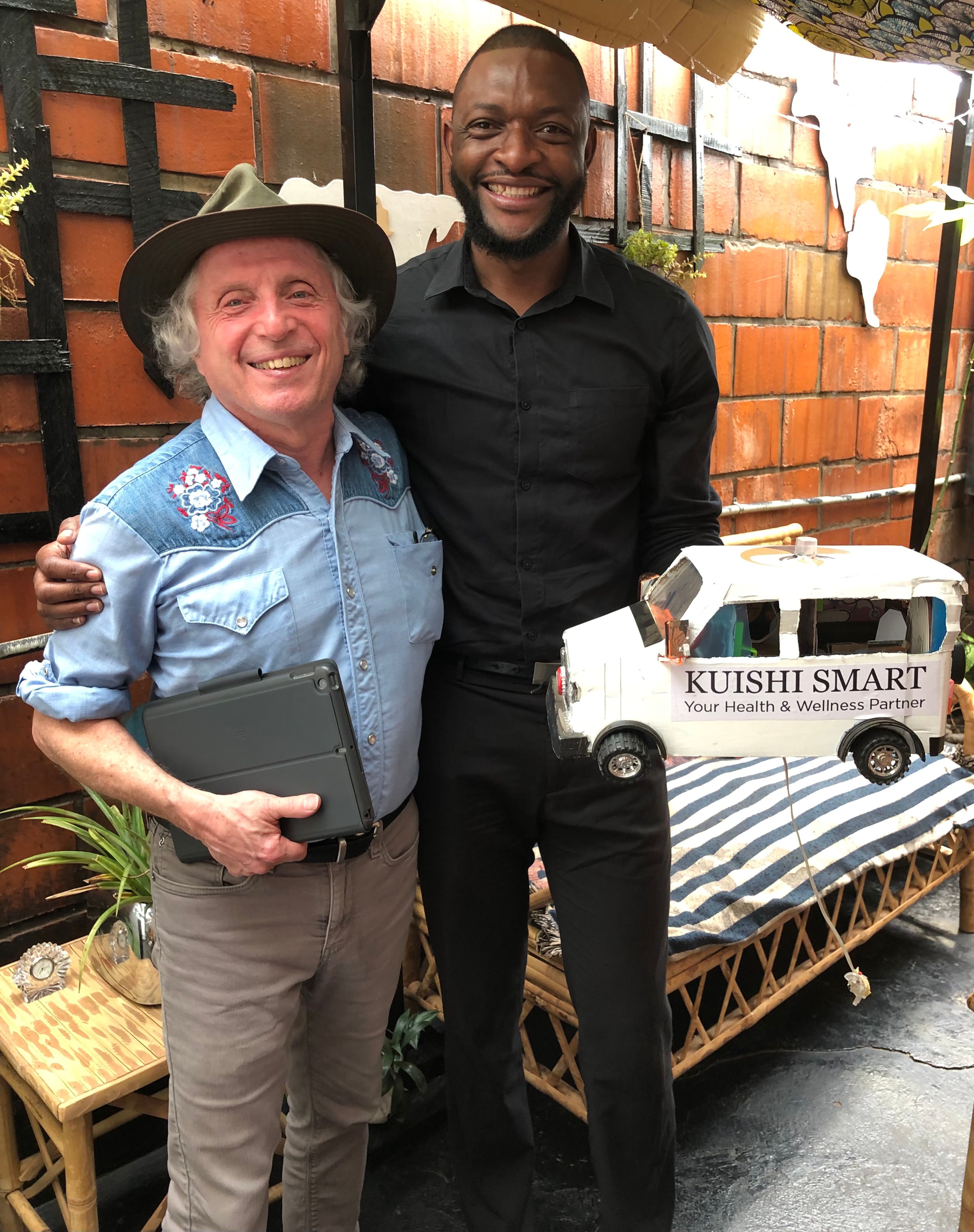 Patient and me! 
And here is Arvi and yours truly at the amazing Akegera National park... yes those are zebras in the background!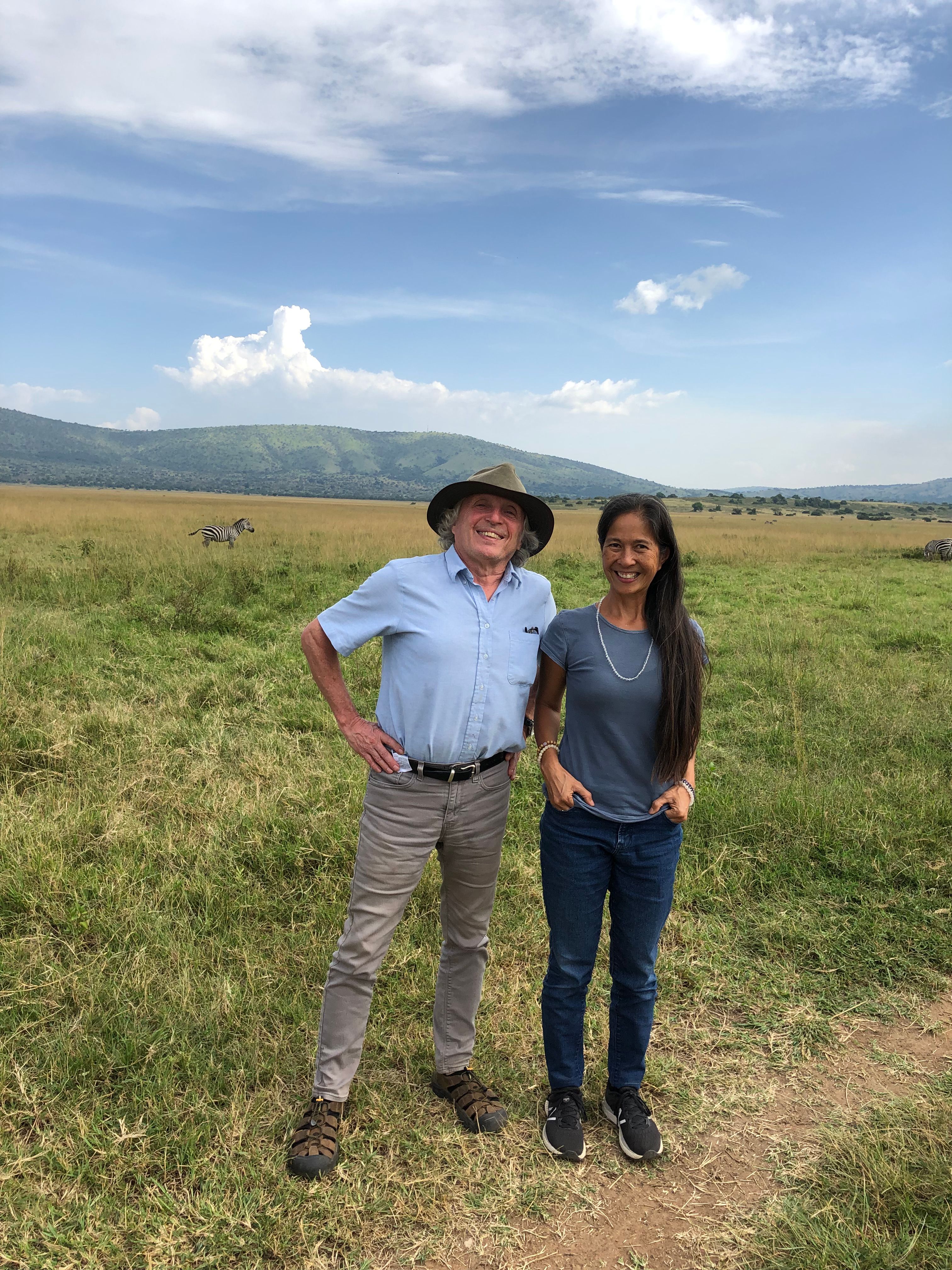 Lots of potential projects emerging. Cool things will happen. I'll keep you posted! 
Cowboy Jim spots the funny lookin' horses. Yee haw!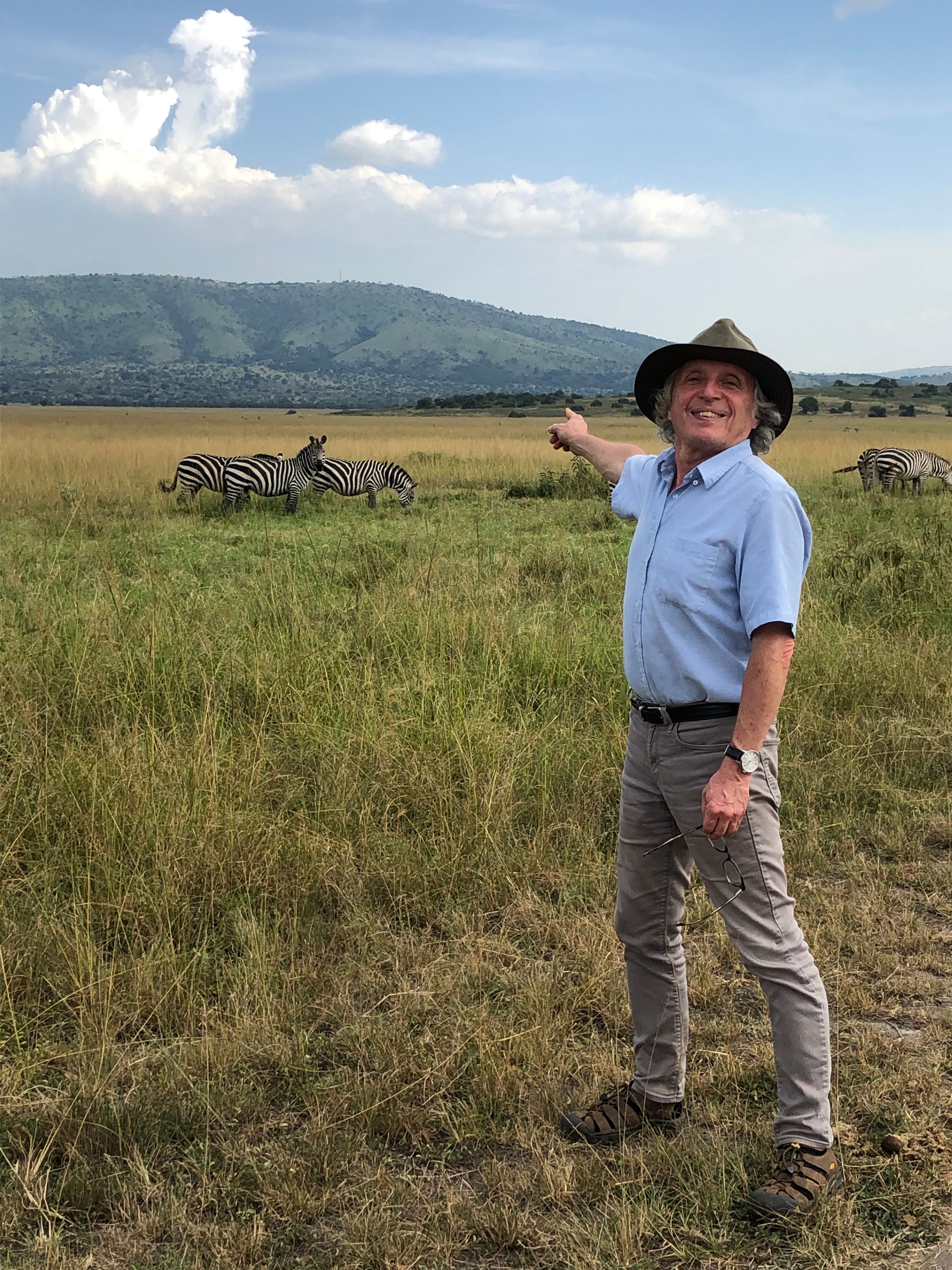 Safely home now and lots going on here too. 
First up: Watershed 3: Navigating Deep Waters with Water Watchers Saturday February 11, 2023 
As we navigate the deep waters we find ourselves in, and the need for broad-scale action to protect a livable future, we find hope in each other. Watershed 3 will bring together people working towards water justice to collaborate and inspire the next steps in the movement. Registration:   https://www.wellingtonwaterwatchers.ca/watershed_3  Be a part of this space to gather and collaborate toward our shared goals of Water Justice. 
THIS IS AN Online Forum.. And i'm doing a party trick at it. I'll perform an instant song at the end based on the action items produced during the session! 
Second: One fun gig coming right up! Cambridge ON. This will sell out. Would love to see some of you there!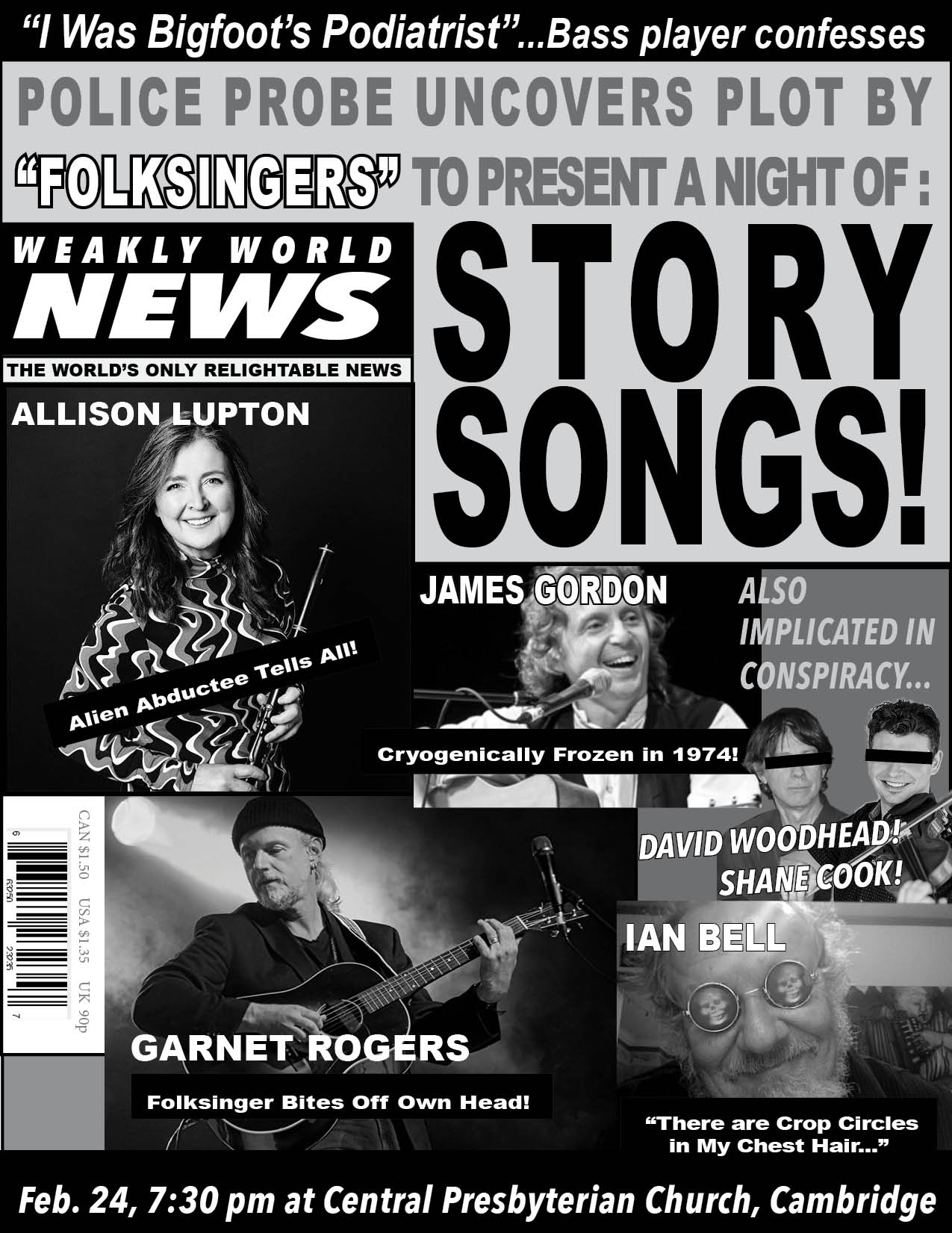 A Night of Story Songs with Ian Bell, James Gordon, Allison Lupton, Garnet Rogers with special guests Shane Cook and David Woodhead. Friday, February 24, 2023 7:30 pmCentral Presbyterian Church,7 Queen's Square,Cambridge, Ontariotickets  https://www.ticketscene.ca/events/43417/ 
"Hey, didya hear about.....?" 
Everybody loves a good story. On Friday, February 24th, four of Canada's best-known musical storytellers will join forces for a very special concert of story songs. Featured singers Garnet Rogers, James Gordon, Allison Lupton, and Ian Bell will be joined by David Woodhead on bass and fiddler extraordinaire Shane Cook. 
Garnet Rogers sings extraordinary songs about people who are not obvious heroes and of the small victories of the everyday. As memorable as his songs, his over-the-top humour and lightning-quick wit moves his audience from tears to laughter and back again.  https://garnetrogers.com/ 
James Gordon's name is synonymous with the stories of Canada - from ""Frozen in Frobisher Bay" to "Sweaters for Penguins". James honed his craft working with Arthur Black on CBC Radio and with the group Tamarack, and continues to paint musical portraits of the people of our land. He's a funny guy as well!  https://jamesgordon.ca/ 
Allison Lupton from Cambridge is a multiple CFMA nominee for "Traditional Singer of the Year" and "Vocal Group of the Year" as well as Folk Music Ontario's "Songs From the Heart" grand prize winner for "One More Day". https://allisonlupton.com/ 
Ian Bell is equally well-known as a singer, storyteller and humorist. Ian worked regularly with the late Stuart McLean on The Vinyl Cafe, and currently writes and performs with Dan Needles (author of the popular Wingfield Farm plays)  https://ianbellmusic.ca/ 
The concert is being held at Central Presbyterian Church in Cambridge. 
Tickets are available through Ticketscene-  https://www.ticketscene.ca/events/43417/ 
ALSO: 
I have TWO episodes of my podcast "James Gordon: Song and Rants Man" available for your listening pleasure. It's a two-part exploration of the crisis in the music business.. with special guests songwriter Shawna Caspi, Guelph musical duo Tragedy Ann, Hillside Festival A.D. Sam Baijal and Roots Music Canada boss Heather Kitching. Check it out at  https://jamesfq.podbean.com 
Back to Rwanda again: While there I visited the very disturbing and inspiring Kigali Genocide Museum. The song that I wrote after my visit is called "Nyabarongo" and in the 3 days since I put it up on social media there's been 1200 views and a lot of interest.. I've done a Youtube Lyric video for it.. watch it here: 
This new song makes it's radio debut this Friday on Toronto's "Corbit's Orbit" show with guest host Howard Gladstone who interviews me about my African adventure and plays the song. He also talks about the 1st anniversary of my 'viral hit' "Crybabies Caravan". More than 300,000 views! Listen to it as a podcast at  https://djpaulcorby.blogspot.com/2023/02/stars-of-canadian-music-shining-for.html?fbclid=IwAR3pjWFdei7aZU4vFygnW6nF-PwbqjO26xnGhQfXtQtZ_XV1yatrgOcR-1Q 
Or live on Friday at 5 pm. online at  http://www.radioregent.com/ 
Here's another project I have on the go that you might be interested in. I made 14 albums with my old band Tamarack .. from 1979 to 1999- and they've never really been available for digital download..until NOW. When I get time I work on getting these classic albums loaded up to  jamesgordonmusic.bandcamp.com Including our first two acclaimed albums that were only on vinyl" "Music of Canada" and "A Pleasant Gale"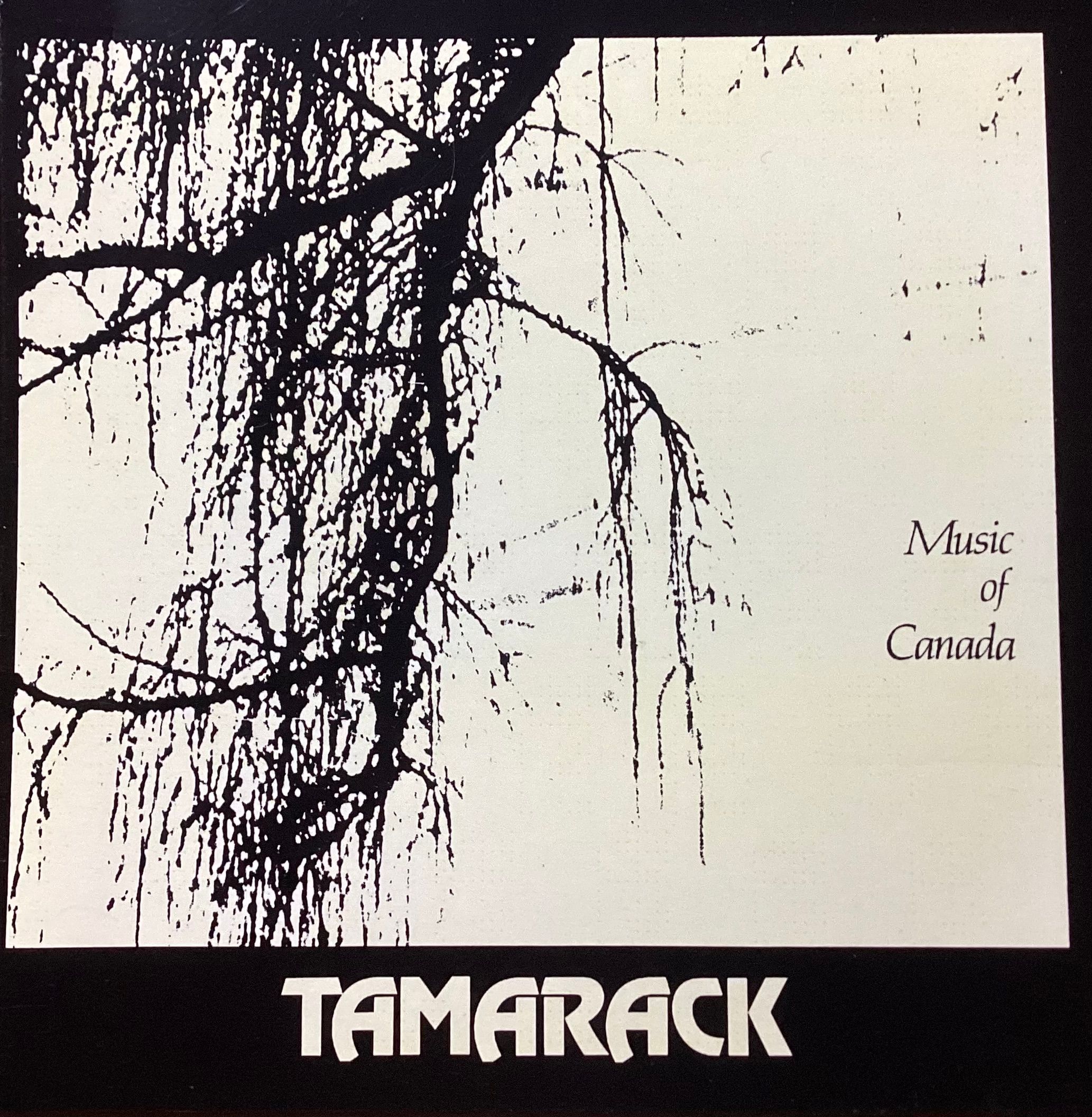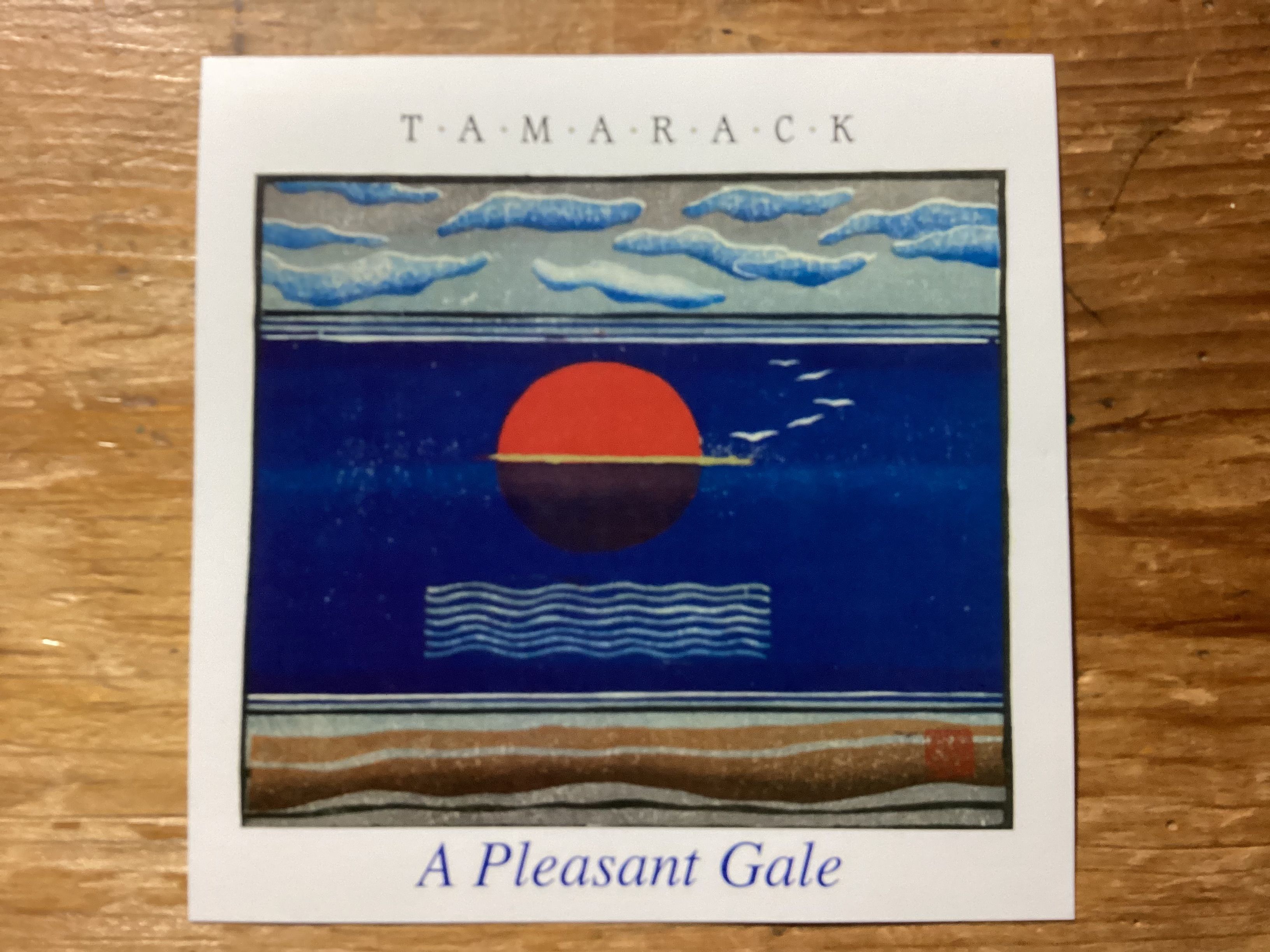 Here's a rare video of the band performing 'Up On The Verandah' from our "Leaving Inverarden" album, now available at the same site... when the line-up was Alex Sinclair, Molly Kurvink and myself: from 1995 live in Winston-Salem NC. 
While you are at  jamesgordonmusic.bandcamp.com   don't forget to order my newest book "The Highway And I"... 
OH and as promised here's the basic info for the next Arvi and James Retreat Weekend happening May 25th-28th in lovely Clarksburg Ontario. ( I know, it's not Rwanda.. soon though!) All the details are at  https://jamesgordon.ca/songwriting-retreat-weekends  This has sold out each time we do it.. so book soon!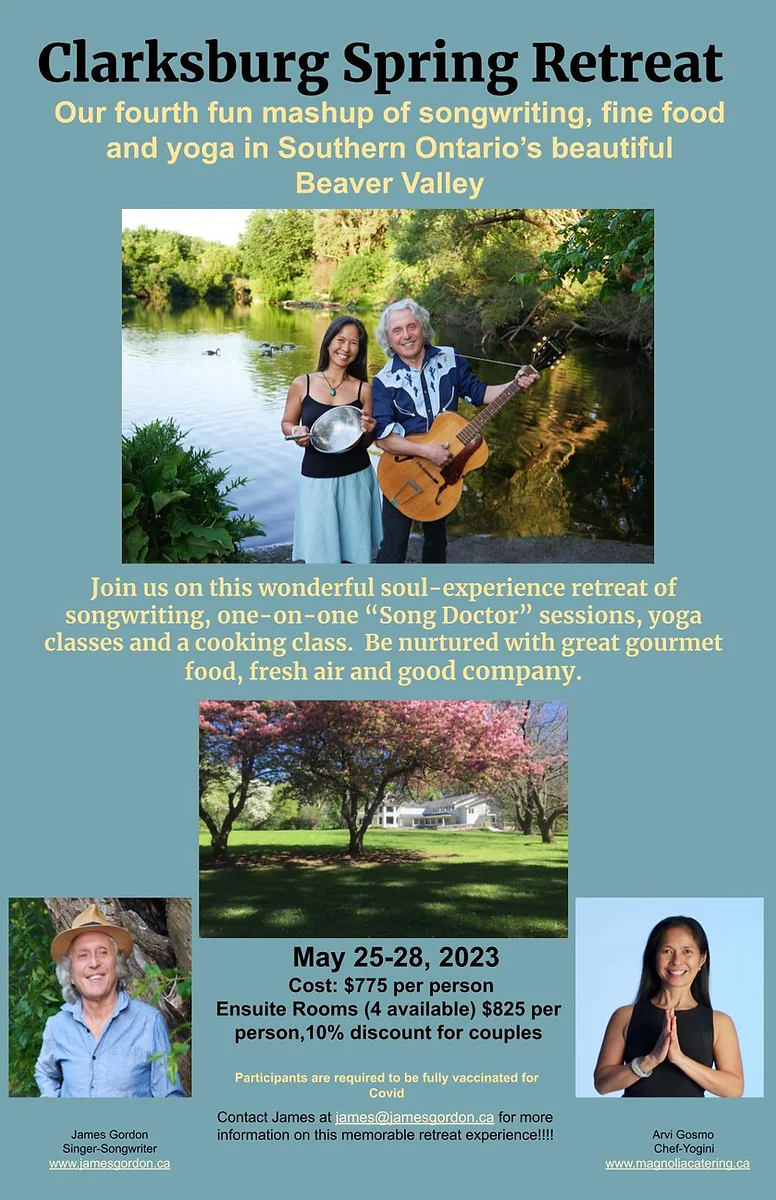 OK that's it for now. Lots more to share next month.. I don't get back out on the road again till April when I head to the Canadian Prairies. Stay safe .. see along the way somewhere..There's always more to check out at  jamesgordon.ca 
Here's your road tale of the month- Hot off the presses from Rwanda! 
I had a wonderful week in Kigali, Rwanda. The visit included a safari to the Akagera National Park where we saw a beautiful unspoiled landscape teeming with wildlife: giraffes, elephants, zebras, hippos, crocodiles, baboons, ( the famous Rwandan Gorillas are in the west of the country)- impalas, water buffalo, lots of eagles and other exotic birds. 
We explored some very colourful and imaginative art galleries, visited the Genocide Museum, the famous and vast Kimironko market, and many other landmarks. 
One thing I was missing was experiencing some local musicians in THEIR natural habitat… When my host Arvi had to spend a day working.. I found an open mic in "Town"- ( what they call the downtown in this spread-out 'city of 1000 hills',) which advertised an interesting combination of open stage and 'feature acts'. It was on the top floor of a hotel. The chief mode of transport there is by 'Moto'.. climbing on the back seat of a motorcycle/taxi and holding on for dear life as they careen through the busy streets. 
Having survived that, I was delighted to have landed in an environment filled with talent: local singers, dancers, poets, playwrights- all who offered their considerable skills during the afternoon and evening. 
Not long after things got going, a very tall gent in his cook's outfit, brandishing a knife, went over to the window that had a panoramic view of the gorgeous city. On the 7th floor, he opened the window and promptly leapt out, to gasps from those gathered. Turned out that he had put little planter boxes on a tiny ledge outside, where he was growing herbs! He balanced gracefully but terrifyingly on the ledge, sliced off a supply of mint and cilantro and jumped back in to applause. You wouldn't catch me doing that. 
One woman from the Camaroon did some spoken word material and a song that was quite political ( something you don't see much in this country whose government seems much loved but is nevertheless a dictatorship)- We vowed to stay in touch around finding ways to get her art out into the world. 
While over at the bar enjoying a fine locally fermented cold beverage, a man came up to me and said "Didn't you used to be in a famous band in the '80's?" I guess I had that certain 'worn out' look about me, but others have asked that too. Weird. I denied it, then it was my turn to get up onstage for my first-ever African performances. I sang my only actually pop-charted song from the 80's- Looking for Livingstone, which has an African theme. 
Here's a link to the song with my actual promo pic from it. Check out the 'stache! 
I got the resident piano player to play along and it was received well. The guy who had pegged me as an aging big shot googled me while I played and at the end announced to the crowd.. "He IS a famous guy from the '80s'. I had been outed apparently, and they all wanted to meet me though none had ever heard of me I'm sure. 
I said my farewells to my new friends, vowed to return, and grabbed another Moto back to my hotel- getting used to my new status as an antique.
---
---
September West Coast Tour Announced!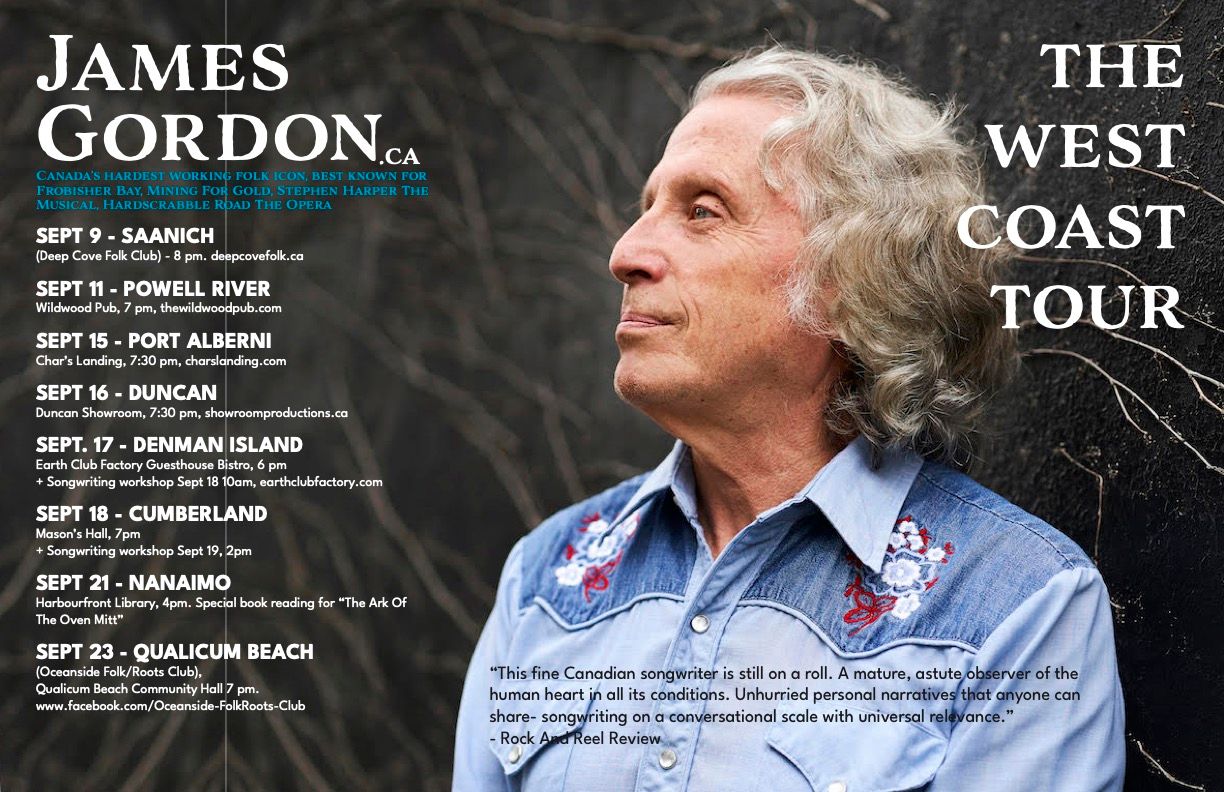 For Immediate Release, August 15, 2022
James Gordon heads to Vancouver Island in September for his first tour since Covid
Like most touring musicians, it's been a real challenge staying off the road during the pandemic. In fact, James Gordon's new album 'When I Stayed Home' addresses that very issue as you can tell from the title.
James loves Vancouver Island, and the kind people on your lovely island seem not to mind him too terribly much , so it seemed natural for him to return to the coast from his base in Guelph for his first tour since you-know-what.
It's been quite a year already for the veteran songwriter. His first 'musical novel' 'The Ark Of The Oven Mitt' (about a Canadian band on the road, oddly enough ), was named a finalist for the prestigious Stephen Leacock Humour Award, and the reviews for the unique book (there are 36 songs that accompany the story)- have been remarkably enthusiastic.
            This spring Gordon had his first 'viral' hit with his controversial song 'Crybabies Caravan' about the so-called 'freedom convoy'; 300,000 hits on YouTube and social media, and a lot of press.
            In May and June in Southern Ontario he directed the sold-out run of an equally newsworthy theatre production called 'Living Below The Line', written and performed by a courageous group of people all living in poverty.
            Interest in his new album continues to be strong, and he's got a new batch of songs ready to share on the September tour, (dates and info below).
            "So many songs. So little time", that's James's dilemma. On this tour he'll be sharing new works from the album and book, some even more recent works from his new one-man musical 'James Gordon's Emergency Climate Musical' and audience favourites from his extensive back catalogue from his years with the seminal Canadian folk trio 'Tamarack' and his years spent as songwriter-in-residence with Arthur Black's 'Basic Black' CBC radio program. He'll also be giving two songwriting workshops: (He's done more than 1500 of these in his long career), and will be reading from the new novel at the Nanaimo library.
            If his instruments don't get lost on his flight, he'll be performing solo on guitar, piano, banjo, penny whistle, mandolin and harmonica and he'll take audiences on his usual musical rollercoaster ride with everything from the historical to the hysterical.
            There's lots more info about James at http://www.jamesgordon.ca
            Here are links to some recent videos:
https://youtu.be/T9rnrRIkqa8 The Great Divide: the single from the 'When I stayed Home' album on Pipe Street Records
https://youtu.be/yW7lPp-Mzls For Free: a live video with excellent band
https://youtu.be/TBELHWb1h3c We Are Broken But We'll Mend- also from the new album
And while you are on YouTube, there are now literally hundreds of covers, many by choirs, of his classic song 'Frobisher Bay'.
James would be happy to be interviewed in advance or during the tour. He's at james@jamesgordon.ca 519-827-6481
-------------------------------------------------------------------------------------------------------------------------------------------------------------
Here's what's going on these days at HQ. 
LOOK: I Started a Podcast!  
It's called "James Gordon: Song And Rants Man"- and the first episode is right here: 
This 1st episode is drawn from James Gordon's one-man show "Crybabies Caravan: A Comedy of Terrors", about the so-called 'Freedom Convoy' that landed in Ottawa and other cities early in 2022. With humour, 12 original songs, and commentary, James outlines why he believes that the Convoy was misguided, misinformed, and a dangerous threat guided by extreme right-wing agitators. The title song was a viral hit with 300,000 views on social media and YouTube. It produced widespread approval, hate mail and even death threats.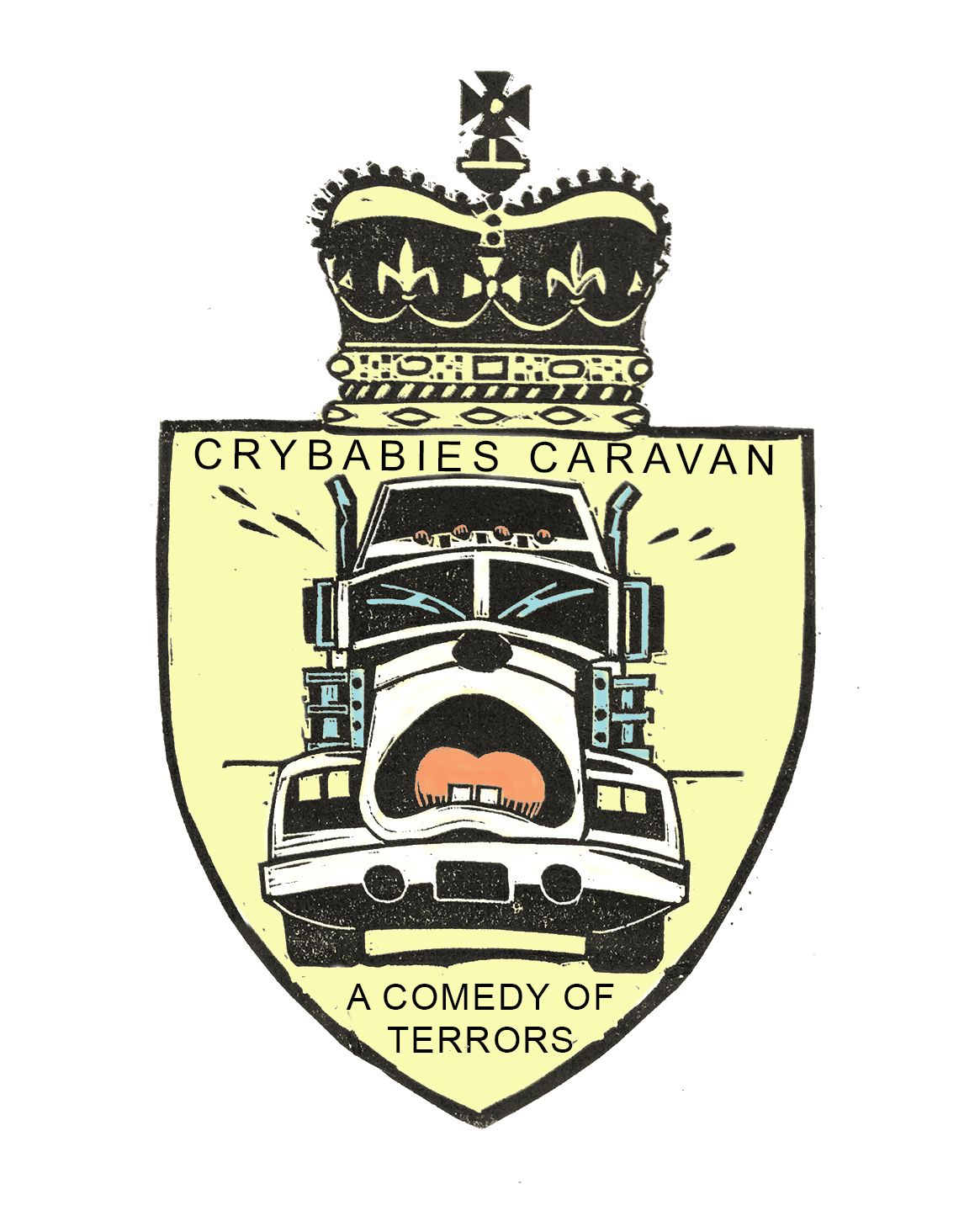 Check it out and spread the word! UPDATE: Episode 2 up now, same link,, part of a two-part series on Climate Change!
---
This Just In! I'm thrilled to announce that my new Novel "The Ark Of The Oven Mitt" is a finalist for the prestigious Stephen Leacock Medal For Humour. I'm in the final ten and the winner is chosen in September. It's a real honor. Look at the company I'm in! Fingers Crossed. It's a 25,000 dollar prize so if I win I'll just keep writing till the money runs out :)
UPDATE: Didn't make the final 3- but grateful to have been a finalist!
You can purchase the book in hard copy or as an audio book at jamesgordonmusic.bandcamp.com
   The Leacock Medal for Humour  
                              Canada's Award for Literary Humour                           
Sponsored by the Dunkley Charitable Foundation

PRESS RELEASE
 
June 1, 2022 at 10:00 am EST – (Orillia, ON) – 

Leacock Medal Long List Announced

The Stephen Leacock Associates are pleased to announce the 2022 long list for the annual Stephen Leacock Memorial Medal for Humour. Celebrating 75 years since its inception, this annual award recognizes excellence in Canadian literary humour. Past winners have included Terry Fallis, Will Ferguson, W.O. Mitchell, Stuart McLean, Robertson Davies, Pierre Berton and Mordecai Richler. Associates President Michael Hill thanks the national panel of judges and a committee of local readers for their thoughtful recommendations with this "long list."  He also thanks the authors for their submissions, and commends them on the quality of their writing.
The three finalists for the award will be named on Monday, August 15, 2022, with the medal winner being announced on Saturday, September 17, 2022 at the Medal's 75th Anniversary Gala Dinner.

The long list for the 2022 Leacock Medal is (in alphabetical order by author surname):
 
Austin, Emily
Everyone in This Room Will Someday Be Dead
Atria Books
Critch, Mark
An Embarrassment of Critch's
Viking Canada
Dumont, Dawn
The Prairie Chicken Dance Tour
Freehand Books
Eedy, Lorne
Rocks With a Story
Kinetics Design,
KD Books.ca
Gordon, James
The Ark Of The Oven Mitt
Pipe Street Publishing
Jalaluddin, Uzma
Hana Khan Carries On
HarperCollins Publishers Ltd.
James, Ron
All Over the Map
Doubleday Canada
Mercer, Rick
Talking to Canadians
Doubleday Canada
Myers, Cristina
The List of Last Chances
Caitlin Press
Wilson, K. R.
Call Me Stan
Guernica Editions

The Leacock Medal for Humour awards are generously sponsored by the Dunkley Charitable Foundation.  For more information about the Leacock Medal and Stephen Leacock Associates, please visit the website at www.leacock.ca. 
jamesgordonmusic.bandcamp.com
2.
What else is happening?
I am directing a play in Kitchener-Waterloo Ontario, for Watercourse Theatre, called "Living Below The Line"- (LBTL), a community-engaged theatre project for Waterloo Region residents marginalized by poverty. Diverse, multigenerational individuals with inadequate incomes will collaborate with theatre artists to co-create and present a work about their life experiences. Rehearsals are going well.. it's a full-time job for the month- An inspiring group to work with. Here's the poster. Admission is free!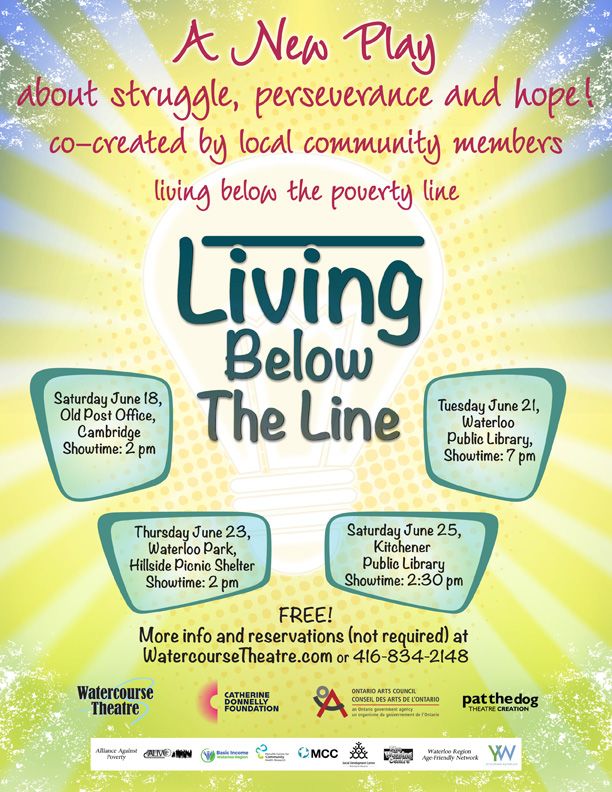 3.The viral hit:"Crybabies Caravan"-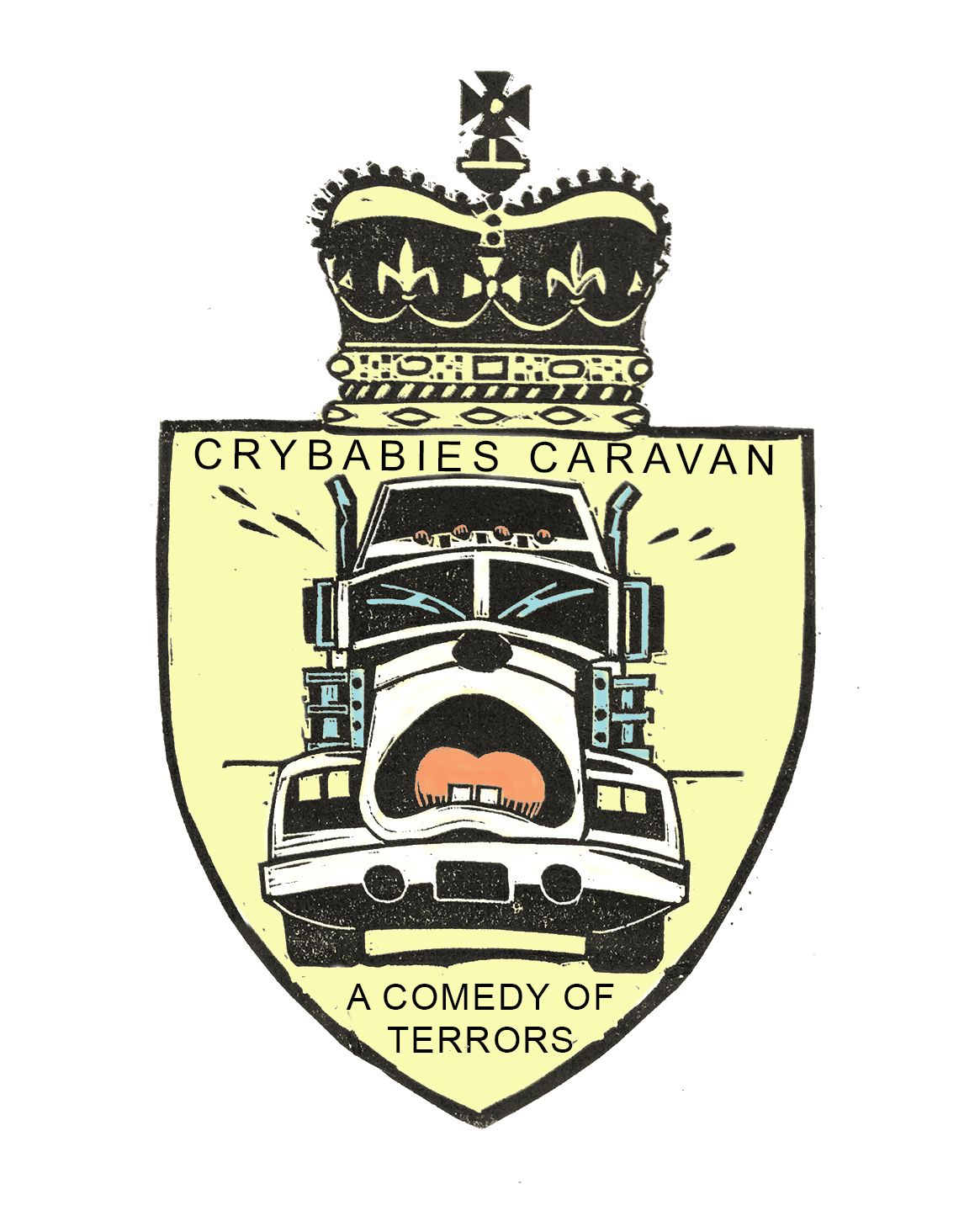 The Story: 
James Gordon, like many Canadians, was dismayed to see the goings-on in Ottawa with what was called the Freedom Convoy but has since become something way beyond truckers. 
He wanted to raise awareness about what he saw as a real threat to our democracy. He quickly tossed off a song about it called "Crybabies Caravan" and plopped himself down with his banjo and did a quickie video for social media. Little did he know that the song would become a viral sensation, with more than a quarter of a million views in one week.  Up to 300,000 at last count. 
It seems that the veteran Canadian songwriter had hit a nerve. People were keen to talk about their concerns, and Gordon's efforts seem to have enabled conversations all over the country and internationally. 
Thousands of enthusiastic messages and calls of support have kept him busy, most of them showing gratitude for the stance he took on this important issue. The song has drawn its haters too, but Gordon notes that "The song seems to have created a community. On social media when a 'hater' goes after me, dozens of supporters come to my aide and speak their mind'. 
Due to popular demand he's now done a radio-friendly full band version, and on YouTube, and in fact airplay is increasing too/
AND due to MORE popular demand, James has produced a 'sequel'- the tongue-in-cheek "Bouncy Castles"
AND - Hot off the Presses: Two more related songs in what is becoming a 'suite' of songs related to 'Crybabies Caravan'- check out "When You Let Love Leave Your Heart: https://youtu.be/LCMEWo9s7pg
and "Convoy Of Hope"- a more optimistic take at https://youtu.be/Iuk_3k_NDWI
It's been a bit overwhelming for him, and unprecedented for someone who mostly records and performs in Canada's small folk scene. 
Gordon pulls no punches in the song, especially with lyrics like "if you walk with Nazis you're a nazi too", "Inconvenienced isn't being oppressed", and "You talk about freedom and that's just fine, until you end up taking mine". All this is couched in humour. Gordon says that 'humour can draw people in, then you can hit them with the message". He has a side hustle as a Guelph City Councillor, and spent years doing topical songs for CBC radio, so he comes by this work honestly. 
Fans started to ask to purchase "Crybabies Caravan", so it's now available as a download on Bandcamp, and the songwriter/politician was thrilled to discover that, while the download is just a dollar, most purchasers have been contributing up to 25 dollars just to show their support, He decided to accept a dare from a convoy member to donate the earnings from the recording to the Shephards of Good Hope Soup Kitchen in Ottawa, where convoyeurs had demanded food. 
It's been quite a ride, with no end in sight. There are even two 'dance remixes' from fans on Youtube.
AND- the topic of the so-called "Freedom Convoy" has spawned two more Gordon originals as well, it seems to be becoming  a series... Check out "When You Let Love Leave Your Heart" https://youtu.be/LCMEWo9s7pg - written in response to the hate mail and threats received after posting the "Crybabies Caravan" song.
AND it's a live show now, debuting April 21st in Guelph . We'll bring it your way on request!
---
---
I'm slowly starting to book in-person shows, with touring plans for each of the three coming seasons. So much has changed since you-know-what happened, that it's hard to know what's out there, ( especially since my former agent, finding that during the pandemic 20% of nothing didn't really add up to much, retired from the biz, leaving me to, for the time being, do this work myself. I totally suck at it, so if you have some ideas about where I could bring my new music, let me know! james@jamesgordon.ca  
---