THE HIGHWAY AND I- NEW BOOK!
Tales From My 40-Year Romance With The Road 
By James Gordon 
Pipe Street Publishing 
Order now at https://jamesgordonmusic.bandcamp.com/merch/the-highway-and-i-new-book
Many of these stories appeared in a 'Book-on-CD' that I released a number of years ago. I have had many more adventures since, and I've become a real proponent of keeping the old-school book format alive, so I've got a new and improved, updated and expanded version for you here. 
There is an album of 19 'road songs' to accompany this work too.
Here's the deal: 
       I've been a professional wandering minstrel for more than 40 years. Name a place. Yup. I've played there. All in all I'm pleased to say that the money's been terrible, the driving has been endless, the food mediocre, the motels overpriced, and the glamorous lifestyle extremely overrated. I've loved every minute of it. 
       I still can't sleep at night because I'm impatient to see what the next 
day brings, and because there's often a snoring bandmate in the next bed.  There's always a story. An adventure. Not a big rip-roaring adventure. A nice quirky little one (which is how I'm described in most of my reviews). Modest, understated, Canadian adventures. Always some moment, an interaction, a smile, a stop along the way: something that suddenly makes it all seem worthwhile; just like Mary Tyler Moore driving into Minneapolis[LB1] . 
       I've fashioned some sort of career by sprinkling song dust on these moments and singing them every night to complete strangers. The magic part of my job, the thing that keeps me doing this, is that sharing these stories transforms those strangers into friends within minutes. I've written down some of my favourite tales for you here. I hope you enjoy them. 
       See you along the road somewhere. 
                                                             James 
Here's a link to me reading a couple of the stories! https://youtu.be/JthdxVoHBC8
New Book! The Highway And I
New Novel: 
"The Ark Of The Oven Mitt" Great reviews are coming in!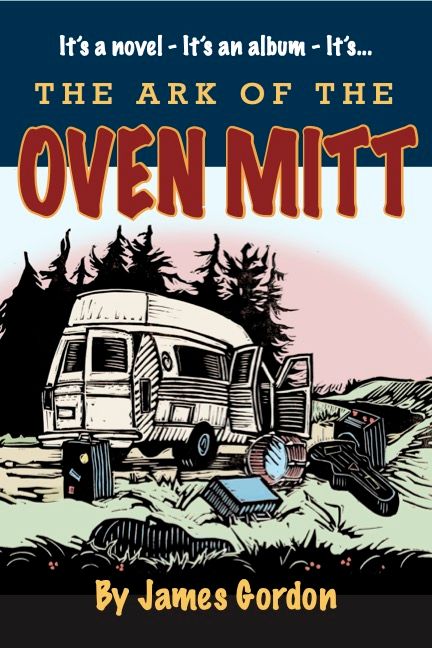 'The Ark Of The Oven Mitt' is a unique hybrid: part novel and part musical album. There's a QR code in the front of the 'hard copy' book that guides readers to the 36 songs that carry the plot along- performed by top Canadian musicians. It's also an audio book, where the songs flow naturally into the narration. 
Here's the scoop:
A Reporter for a Canadian music magazine is asked to do a 'where-are-they-now' story about 'Miles and Myles', a popular band in the '80s.
Maddie Myles, the charismatic lead singer, leaves her partner and the band at the height of its fame, and disappears. Her ex, Miles Gerber, has been touring the bar circuit for 20 years with his own group "Miles Gerber and The Shit Disturbers". As the audience declines, Miles says each night that they are 'searching for the end of the music business'. Miles is unwilling to be interviewed, so the reporter gives an old tape recorder to the group's drummer, who gives us a rolling report on the slow decline of the band, and the music business in general.
            One day, in their beat-up touring van, they pick up a dynamic young woman at the side of the road, who starts them on a new journey: not an ending, but a new direction that leads to a revival, and lots of self-discovery for Miles. Along the way they learn the value of community, and the power of stories. In Part Two they accidentally find themselves at the center of an embryonic 'utopian colony' with a festival atmosphere, which is where the unusual title of the book comes from. Miles writes songs along the way that tell the story of the challenges of a changing world, compelling tales of those who have fallen in between the cracks of a system that has left them behind.
            With humour, and 36 original songs, we laugh, learn, and love along with a rag-tag bunch of characters who find resolution and fulfillment after years of drifting along an endless highway.
The book is available through jamesgordonmusic.bandcamp.com or in Guelph at the Bookshelf. The Audio book is available on the same website or on almost any platform where you look for such a thing.
"This quirky, rambling tale of a band of misfit, has-been musicians had me laughing out loud more than once... A wild, fun read which I am rating 4 out of 5 stars". Susan Libanio Reedsy/Discovery
"A fading Canadian band is revitalized by a young vagabond in this rollicking showbiz novel… Gordon's yarn is partly a love letter to small-town Canada, with its greasy spoons, wind-swept plains, un-chic shops, and regular folks who keep on going despite their troubles. He maps this terrain well in beautifully crafted scenes of savory characters sharing honky-tonk conviviality… Gordon is a talented writer with a punchy, resonant prose style" -Kirkus Reviews
"James Gordon's The Ark Of The Oven Mitt gave me a wonderful time. It's a book and music album in one!...
I've never heard of him, but now I am a fan.....Obviously, the author has a great sense of humor. His clever puns will have you chuckling throughout the book....
I cannot discuss the title, for then I would be in spoiler territory. Suffice it to say that the story ended splendidly. I wish it could happen that way in real life. .....Lovers of music, particularly country rock, will relish this book. The book vividly presents how technology is affecting lives: displacing local traders; strangling industries, including show business; and torturing the planet. Are we better off now?" OnlineBookClub.
You can purchase this unique work as an audio book or as an actual old-school book, at jamesgordonmusic.bandcamp.com
New Album: When I Stayed Home
This Just in: the 2nd single from "When I Stayed Home" on Pipe Street Records- "The Great Divide," https://youtu.be/T9rnrRIkqa8 has been named one of the top songs of 2021 by Cashbox magazine! 
Here's the scoop with this new project:
James Gordon, like most of us, had his life radically disrupted by the pandemic. 
A legendary 'gig pig', he's toured relentlessly since he was 20 years old, which wasn't exactly yesterday. 
Stuck at home, he sulked for a while then got busy. And boy was he busy. 
From his tiny studio he finished a novel that is accompanied by a 36-song recording; he did a virtual tour of his one-man show "James Gordon's Emergency Climate Musical"; he kicked cancer's butt, dealt with the overwhelm of his side hustle as a Guelph city councillor during Covid, and perhaps most significantly, wrote and recorded his 40th album, called, appropriately, "When I Stayed Home". 
Unable to bring any of his 'stable' of top Canadian talent into the studio, Gordon buckled down and played all the instruments himself, including acoustic and electric guitar, banjo, mandolin, piano, bass, accordion, (the loneliest of instruments), harmonica, tin whistle, ukulele, and percussion. He made two brief exceptions to his "all by myself rule" with stellar cameos from vocalist Tannis Slimmon and clarinetist John David Williams. 
The 'stay at home' orders allowed Gordon to challenge himself lyrically and musically, and we think you'll appreciate the results.  The songs are reflective, the sound intimate and warm; stripped down. Just as the album was ready for release, he popped another song into the mix, a timely commentary on the shocking news around residential schools. That late arrival, "We'll Bring You Home" is the first single on a project that covers many topics including climate change, the income gap, racism, empathy, social justice, our natural environment,  and 'love in a challenging time'. James says these songs demanded to be written, and he's excited about sharing them with the opening-up world. 
 Here's the link to purchase a hard copy or a download, or to stream:
https://jamesgordonmusic.bandcamp.com/album/when-i-stayed-home-2
---