Retreat Weekends With Arvi Gosmo and James Gordon
Arvi Gosmo and James Gordon 
present 
Clarksburg Spring Retreat : our 4th Annual: May 25th-28th- 2023
Our fourth annual weekend of songwriting, fine food, yoga in a fabulous natural setting.
Arvi Gosmo and James Gordon have worked together since 2020 to create a weekend retreat setting that has turned out to be a very rewarding experience for all of their participants. They've been thrilled with the success of these events. Due to popular demand, they are adding a spring retreat this coming May, partnering for the second time with the stunning Clarksburg Retreat Centre in Southern Ontario's beautiful Beaver Valley. http://www.clarksburgretreat.com It's a Covid-safe and welcoming setting ideally suited to what they have been offering. This will be an intimate, exclusive gathering as there are just 12 rooms in this expanded heritage farmhouse. Here's what to expect-
The Weekend (Thursday supper till Sunday Afternoon) includes:
●  An opening reception and song circle.
●  6 delicious and nutritious gourmet meals cooked from scratch on-site by Arvi, including a cooking
class on Saturday where you'll create your own meal!
●  A songwriting workshop, an assignment that will get you started on the song you'll write, and a
group songwriting exercise.
●  Additional workshops on lyrics, melody and structure, co-writing, whatever you're interested in, as
well as the return of the popular 'Songs you Love' song analysis session. Let us know if you have
ideas about what we can offer.
●  Friday and Saturday night song circle and jamming.
●  Lots of time and inviting spaces for you to work on your song.
●  One-on-one time with James to nurture along with your song.
●  Sunday afternoon session where you'll share your new song, get positive feedback and a
recording of it.
●  3 night's accommodation in your own spacious and comfortable room. Couples welcomed too.
●  Nature trails on site and in the adjoining conservation area and a campfire
Let us know your dietary concerns. We know you'll love the food. Coffee, tea, water, juice and snacks will be available throughout the day. Light snacks will also be offered in between meals. Bring your own alcohol.
The Cost
$775 for the weekend; (10% discount for couples). There are four ensuite rooms with private baths: those are $825.00 each.
NO EXPERIENCE or Instrument necessary. You'll write a great song and others will help. Payment by e-transfer to james@jamesgordon.ca

About the facilitators
James Gordon is known in Canadian music circles as the "Songwriter's Songwriter". He's written more than 1500 songs, and released 40 albums solo or with his former band Tamarack. He was songwriter-in-residence at CBC radio for many years, primarily with Arthur Black's show, has led many songwriting retreats, solo or with Katherine Wheatley, and has been conducting his "Song Doctor" classes for a few years as well. His song "Frobisher Bay" has been recorded by over 100 artists world-wide, and his song "Mining For Gold", made famous by the Cowboy Junkies, has appeared in numerous films. This year he had a viral hit: 300,000 views of his controversial 'Crybabies Caravan', and his first novel was a finalist for the Stephen Leacock Humour Award.
www.jamesgordon.ca
Arvi Gosmo: After more than 25 years of culinary experience, Arvi Gosmo is a very knowledgeable and highly successful culinary chef. She has cooked and owned her own restaurant and established a successful catering business with numerous testimonials to back up her expertise in the culinary trade. Along with being a professional chef, Arvi is also a seasoned yogi. She has been a yoga practitioner for over 30 years and also holds a 200 Hour Yoga Teachers Training Certificate.
She is currently in Rwanda helping to establish a retreat centre there.
www.magnoliacatering.ca
Arvi and James would love to share this unique experience with you. More details on request: james@jamesgordon.ca or 226-971-9132
A group picture of the participants and facilitators, Clarksburg Spring Retreat, May 2022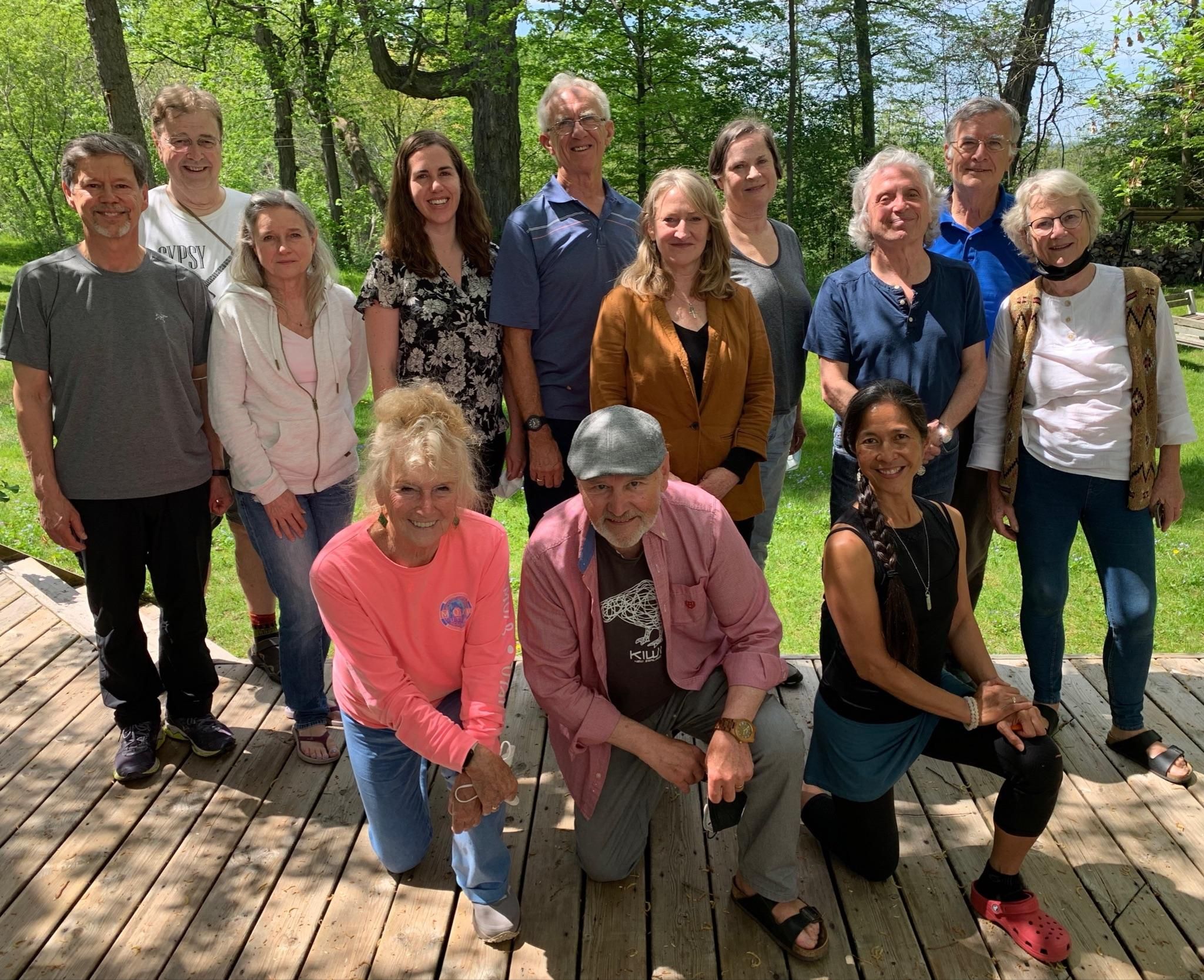 Testimonials
Songwriting has largely been an independent process for me and the collaboration only happened once the song was born. During this retreat weekend, I was able to come alongside other songwriters as we each created our new songs. It is a gift to have a window into this creative and nurturing process. Songwriters are also such a joy to jam with! I highly recommend these retreats for new and seasoned songwriters.
~Julia
James and Arvi gave us a great weekend retreat of good music, good food and good vibes. The feeling of isolation you get from the location focuses your musical efforts. I have written a recordable song at every retreat.
~Neil Hutchinson, frequent retreat participant
This experience at The Songwriting workshop in Clarksburg in May 2022 was simply outstanding in every way. The James and Arvi team have a unique way of precipitating an intimate community atmosphere in a very short time. The special guidance, support and encouragement from James is wonderful, everyone's a winner in one way or another. One's writing of song skills can't help but improve.Any doubts regarding one's ability are addressed and nurtured in a professional supportive manner.The conclusion? Everyone improved and presented their song.Collaboration is also encouraged successfully, you make friends here!! Arvi herself with her personality and cooking skills brings a wealth of knowledge and amazing food preparation.
The meals were simply five stars! Plus she taught yoga as well as giving a cooking class. What more could one ask?
This experience was the best yet, the location at Clarksburg Ontario is also comfortable and spacious.on beautiful grounds. I would do this again anytime. Thankful participant.
~Jean Doench
What a joyful retreat in a serene setting in Clarksburg. James skillfully nurtured our songwriting efforts, while Arvi nourished us with delicious food and gentle yoga. Collaborating with such talented participants as well resulted in many wonderful new tunes and friendships. I so appreciate the trusting and supportive environment that allowed us all to create something wonderful.
~Connie Murch
I am still processing our weekend together, and always will be. Joy. It was one of those experiences I think. Just by being put into a situation where I had to write a song, now I appreciate others' songs so much more; so, the weekend ended up being more depth than breadth for me, and I needed that in my world of temptation to distraction.
So somehow we touched on that, and of course James and Arvi know this, they both exude this quality of kindness and depth, so that set the tone for the whole weekend. And I really want to
thank you James and Arvi for your efforts and the work you put in to create a weekend where we could all connect, and focus on what is important and not necessarily comfortable or easy. You are both masters in my opinion.
I appreciate you all, and I hope to do it again in whatever form, even though I have reluctance and doubt.
The cuisine and accommodation were fantastic. ~Paul
Thank you for an outstanding extended weekend on the art and science of songwriting.
The weekend saw an excellent progression of an introduction to songwriting, the use of the group songwriting exercise as a way to point out and explore the different stages of songwriting, the performance seminar and the conclusion with the finale performance by each of us.
On a personal note, I was made most welcome by both of you, even though I did not know you at all beforehand. Your relaxed manner was infectious with all of the participants. We all got to know and enjoy each other's various songwriting and performing talents. The informal jam sessions were most helpful to foster this familiarity and the development of many friendships.
I would note that the accommodations and the food fit the occasion perfectly. The courtesy, care and talent with the food preparation was an unexpected but most appreciated benefit. The yoga was another unexpected treat and so helpful at settling the mind to focus on songs.
I wish you all the best with any such future endeavours. I hope to get the opportunity to return to another one soon.
~Mike Burke
Ditto your comments, everyone. Super weekend. Lovely to spend time with all you talented and supportive people.
~Wendy M.
Thanks for everything Arvi and James for making this songwriters' retreat a success. I never thought when we first assembled that it was possible - but everyone turned out songs and most of them were really amazing. Whatever James is doing to make these workshops work, he is doing it right. Again it was a pleasure to attend - accommodations were excellent, and food and refreshments wonderful. Finally this was an enriching experience being with all those other talented people - and the building of community in such a short time almost a miracle.
~Ray