Winter Songwriting Retreat with Katherine Wheatley and James Gordon
They're back! Frequent collaborators and neighbours Katherine and James hosted an annual songwriting weekend for many years until they got too busy with their own projects. They're back for an exciting reunion this winter at the newly renovated Ignatius Retreat centre just north of their hometown of Guelph. 
Immerse yourself in a weekend of songwriting with these two successful and respected Canadian singer-songwriters. For beginners and advanced writers of all ages, this three-day experience will be once again presented at the beautiful Loyola House at Guelph's 650-acre Ignatius Retreat Centre. 
Katherine and James have developed a program that provides a nurturing, creative environment for writing songs and learning about the craft of songwriting. The weekend starts Friday night with a reception, introduction, song circle and jam session. One-on-one mentoring, group sessions, workshops, and more jamming lead to a final concert on Sunday afternoon where everyone performs a song they've written over the weekend. There will be opportunities to collaborate with the other writers to create great arrangements and harmonies for the final performance of your new song. 
The weekend includes: 
Friday night reception and song circle 
One-on-one mentoring sessions with the instructors  
An individual songwriting assignment  
Access to keyboards if needed, and lots of space to work on your song  
Optional workshops - lyrics, chord progressions, melody writing 
Saturday walk or ski around the beautiful Ignatius property  
Saturday night dinner and evening song critique session  
Late-night Saturday jam session by the fireplace in the lounge  
Delicious organic meals and refreshments throughout the day  
Final Sunday afternoon concert featuring YOUR new song!  
A recording of your completed song  
As in previous years we'll have a 'staff mentor' to lend support to creating your songs: an experienced writer and nurturer who can lend advice and musical accompaniment to your newborn ditty. Our special guest will be announced soon! 
Mentoring and Workshops: 
Each participant will meet one-on-one with James and Katherine (that's 2 one-on-one sessions each). Please feel free to ask James and Katherine for additional personal attention if you need help with your songs or help with songwriting in general. Four optional workshops will be offered during the retreat. Katherine's workshops will focus on song structure, chord progressions and melody writing. James's will focus on lyric writing. On Sunday, Katherine will give a harmony workshop, focusing on finding harmonies and arrangements for your new songs. 
Location: 
Located 2 km north of Guelph, Ontario, the Ignatius Jesuit Centre serves as a place of beauty and sustenance, a place where nature may give strength to mind, body and soul. Consisting of a green belt stretching from the Guelph Lake Conservation Area to the Guelph Elora Trail, the estate is home to the internationally-acclaimed Loyola House Retreat, and the Ignatius Farm, surrounded by 650 acres of ski and hiking trails, ponds and streams, fields and forests. The Loyola house has a spacious lounge, comfortable private rooms, fabulous local organic food and lots of space for writing your song and getting some reflective time on your own. As if Loyola House wasn't already an amazing environment, there are now 21 newly renovated ensuites, new beds, new floors, new bathrooms, a new dining room set up. All of it bright and COVID safe. Check out the changes here: http://ignatiusguelph.ca/loyola-house and here's a general overview of the place: www.ignatiusguelph.ca 
Fees: 
Songwriting workshop, accommodation and meals (all inclusive): 
$625.00 for a standard room, (shared washrooms)- or 695.00 for ensuite rooms. Meals include Friday: light meal; Saturday: breakfast, lunch and dinner; Sunday: breakfasts and lunch. Snacks and refreshments all weekend. Meals are made with as much local organic produce as possible. (There are Organic Gardens at Ignatius). We have a maximum capacity for 25 participants, so we encourage you to book early! 
Registration: 
Payment is by etransfer or PayPal to james@jamesgordon.ca 
Please let us know if you have special needs, dietary restrictions, and suggestions for workshops you'd like to see. 
For more info: email james@jamesgordon.ca or call 226-971-9132 
Some tributes from previous participants: 
"A fantastic weekend....I liked that we had lots of time to work on our song, and also the one-on-one mentoring sessions. Spending quality time with you two experts was one of the biggest perks of the whole weekend." - Glenn McFarlane  
"Sunday afternoon's concert was magical...hearing everyone's songs. I have memories of the weekend that will last a lifetime." M.Smole 
"Left utterly satiated. Thank you so much for a weekend that I won't forget."-Don Ablett 
Instructors: 
Katherine Wheatley: In addition to touring as a solo singer-songwriter, Katherine Wheatley performs with the trio Boreal, the duo, Wendell and Wheat, and the 7-piece Toronto band, Betty and the Bobs. She and her musical pal, Jane Lewis, lead choirs, on-line sing-alongs and present Women's Music Weekend in Guelph, ON. Katherine has written and recorded over 200 songs with kids through her Youthsongs programme and has produced over 30 CDs with schools across North America. This geologist-turned-musician has worked as a singer and zodiac driver on board the MS Expedition in Antarctica and the Norwegian Arctic and Alaska. 
"She turns pebbles of everyday life into dreamy mountains of song." (The Toronto Star) www.katherinewheatley.com                                                       
James Gordon: James has had a long and successful career in the Canadian arts sector. As a solo singer-songwriter and with the ground-breaking trio Tamarack, he's recorded at least 40 albums and has toured relentlessly around the world.  He was a CBC radio as songwriter-in-residence for the 'Basic Black' and 'Ontario Morning' programs, and he's just released his new album "When I Stayed Home" and his first 'musical novel' "The Ark Of The Oven Mitt", which was a finalist for the Stephen Leacock Humour Award. His 'viral hit' 'Crybabies Caravan' has surpassed 300,00 views on social media and YouTube. www.jamesgordon.ca
Retreat Weekends With Arvi Gosmo and James Gordon
Arvi Gosmo and James Gordon 
present 
Clarksburg Spring Retreat : SOLD OUT
'twas a grand success- here's the photo of our graduating class-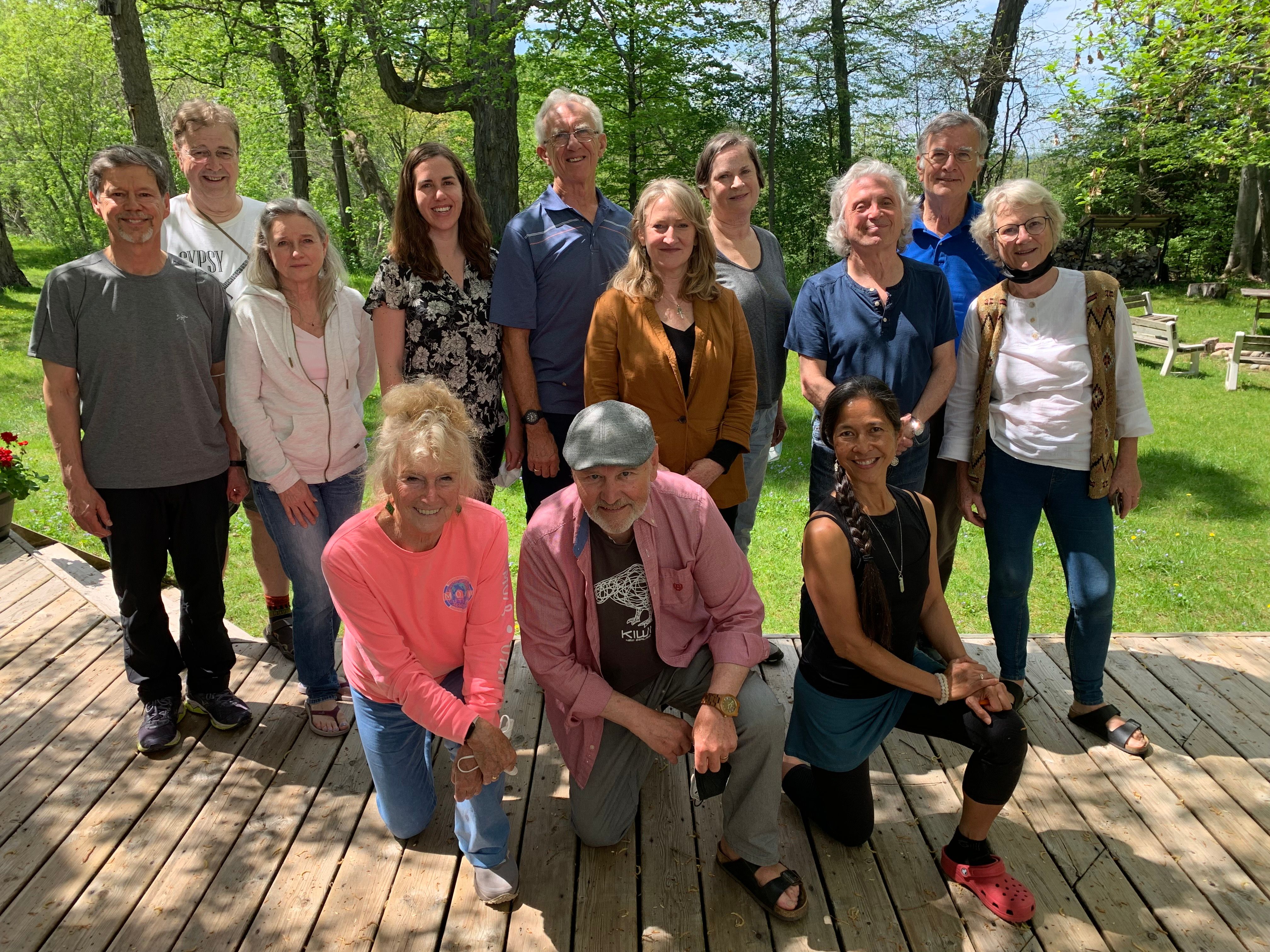 Here's what you missed! We'll be doing it again so watch this space!
May 12-15, 2022 
Our third fun mashup of songwriting, fine food, yoga In a fabulous natural setting. 
Hi folks, 
            I've had the pleasure of working with Arvi Gosmo twice now to create a weekend retreat setting that has turned out to be a very rewarding experience for all of our participants. We've been thrilled with the success of these events. Due to popular demand we are adding a Spring Retreat ( Just bumped out of its Winter spot with that derned Covid) and we're thrilled to be able to partner with the stunning Clarksburg Retreat Centre in Southern Ontario's beautiful Beaver Valley. http://www.clarksburgretreat.com It's a covid-safe and welcoming setting ideally suited to what we have been offering. This will be an intimate, exclusive gathering as there are just 12 rooms in this expanded heritage farm house. Here's what to expect- 
            The Weekend (Thursday supper till Sunday Afternoon) includes:*An opening reception and song circle 
*6 delicious and nutritious gourmet meals cooked from scratch on-site by Arvi, 
including a cooking class on the Saturday where you'll create your own meal! 
*A songwriting workshop, an assignment that will get you started on the song you'll write, and a group songwriting exercise. 
*Additional workshops on lyrics, melody and structure, co-writing, and whatever you're interested in. 
*Friday and Saturday night song circle and jamming- and this year a special workshop on how to best perform your song. 
*Lots of time and inviting spaces for you to work on your song. 
*One-on-one time with James  to nurture along your song. 
*Sunday afternoon session where you'll share your new song, get positive feedback and a recording of it. 
*3 night's accommodation in your own spacious and comfortable room. Couples welcomed too. The Covid restrictions at this site state that rooms can only be shared by participants who are related. 
* Nature trails on site and in the adjoining conservation area, snowshoeing, skiing nearby, and a campfire! 
Participants must be fully vaccinated for Covid; proof required in advance. Masks must be worn indoors if in a room with others, except when seated for meals. 
Let us know your dietary concerns.  We know you'll love the food. Coffee, tea, water and juice will be available throughout the day. Light snacks will also be offered in between meals. Bring your own alcohol. 
                                                      The cost: 
690 dollars for the weekend, if paid by April 1st. ( if a couple, the second person would pay just $600.) $750 and $650 after that. There are TWO spots left! 
NO EXPERIENCE or Instrument necessary. You'll write a great song and others will help. Payment by e-transfer to james@jamesgordon.ca 
"James and Arvi gave us a great weekend retreat of good music, good food, and good vibes. The feeling of isolation you get from the location focusses your musical efforts. I have written a recordable song at every retreat." Neil Hutchinson, frequent retreat flyer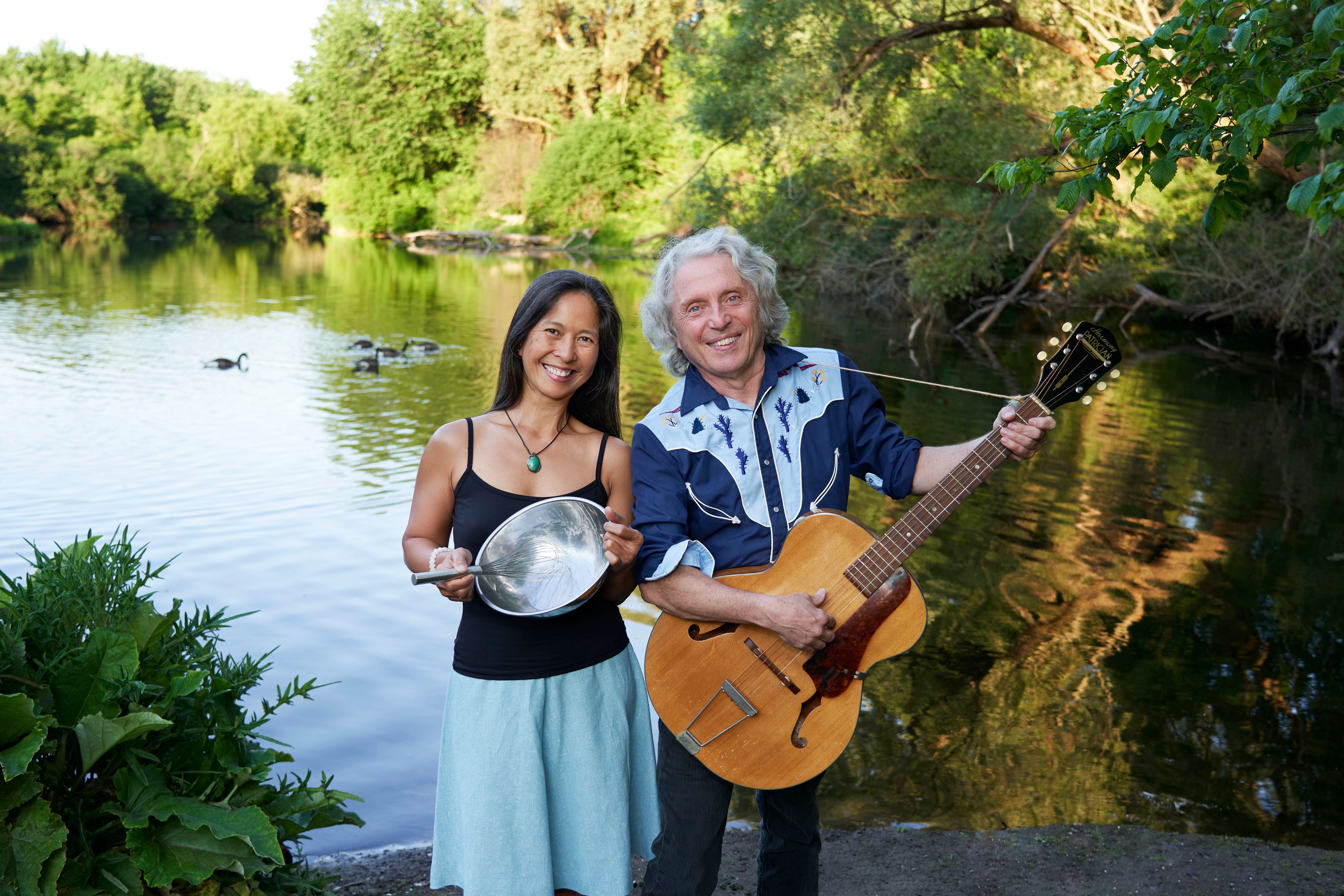 And here's something that had to be postponed... but we'll try again next year: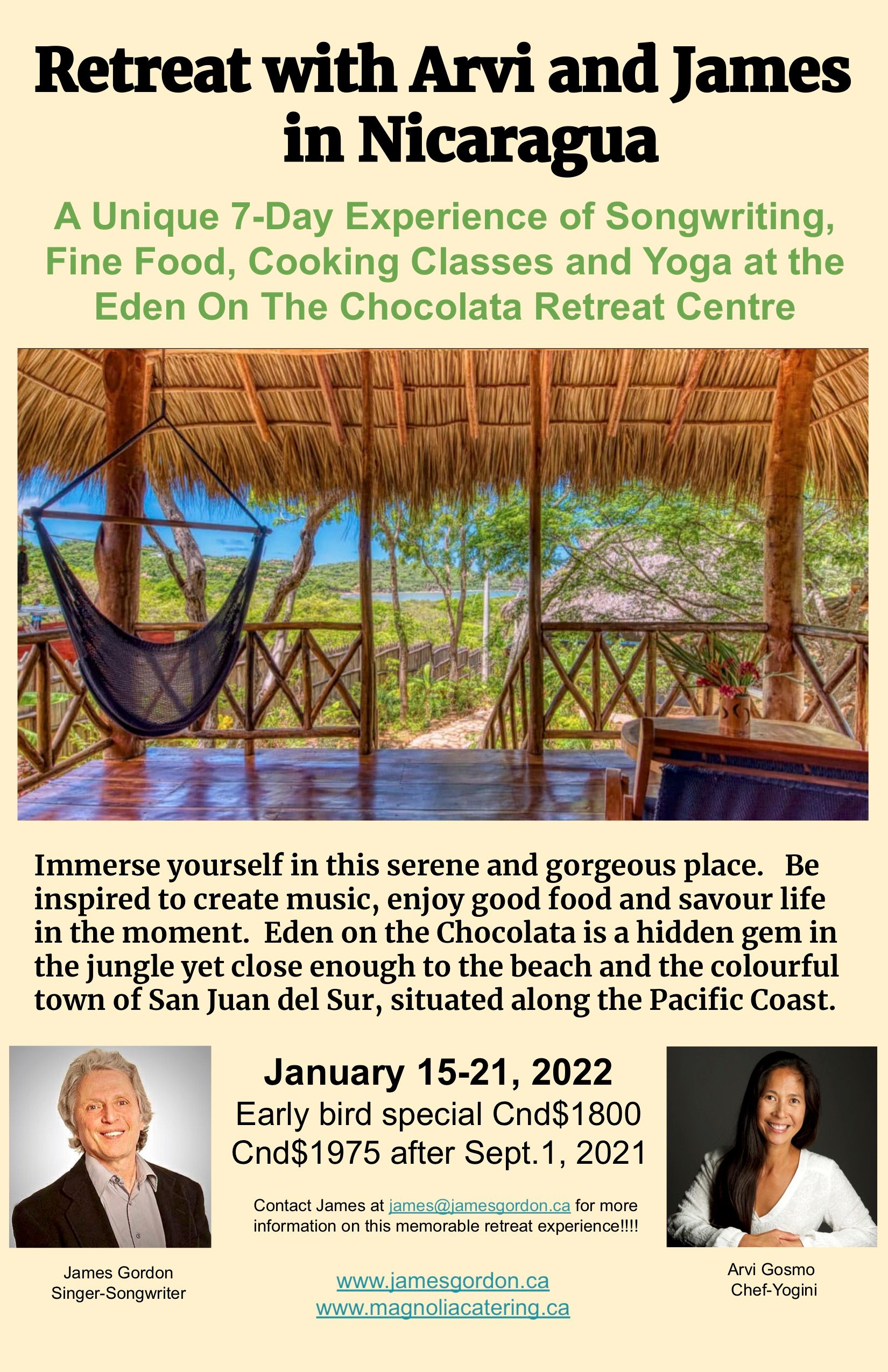 Each summer we gather on gorgeous Snake Island on Lake Simcoe, just an hour north of Toronto, for an intimate retreat for a dozen songwriters. Here's our crew from last year. You could be in that pic THIS September.